Full disclosure, this piece is 100% opinion but this issue looks too clear for me to not chime in.
We've already shared some news on the News Feed update that Facebook announced in mid-January. By now, that's likely old news for you. Although, as this update has absorbed a bit more and we've had a few discussions within the industry, my personal view on the changes is adjusting rapidly.
The optics on the announcement were impressive, and I've got to give the communications folks at Facebooks some kudos. The News Feed justification was directed at "fake news" and also the Russian sponsored ads issue that has had Facebook in the mud as of late. On the surface, it feels like a good corporate citizen moment in which Facebook is taking a proactive step to address the criticisms.
When you step back from the spin and look at the changesm more closely, the real story begins to emerge. From my vantage point, that story is deeply routed in a different agenda.
What's abundantly clear over the past few years is that there is a long-term plan towards lowering the organic reach brands can achieve within the News Feed. The reach figures have been in decline for the past 5-6 years, you could even argue that the reach is in a low single digit percentage today.
A major theme in the recent announcement was centred around limiting posts from business, putting a focus on your connections.This message doesn't hold water given the shift to lowering organic reach of brands has been ongoing and intentional for years. Unless the reach figures were going to zero, it's not really news.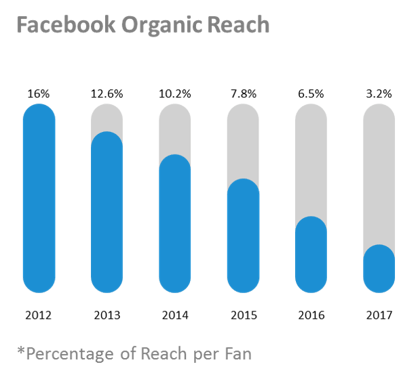 If I step further back, Facebook has been fighting some serious fatigue on the core platform over the past few years with roughly 15% - 17% of all content being ad supported. Users have clearly become annoyed and are starting to shift away from Facebook, seeing a roughly 30% decline in engagement on the core platform in '17. Nothing to really panic about, but I'd go as far as to assume they had some concern on the trending here.
eMarketer underscored this ongoing decline in users earlier this week as they released a report showing that Facebook saw a 9.9% decline (users between 12-17). I'm sure these numbers are directional at best, but the trend can't be one that the Facebook executive team likes to see.
And the projections from eMarketer are not looking much better. So clearly, something needs to be done here.
I'll also pause for a moment and put your focus on Instagram, a platform within the Facebook ecosystem. As the decline of engagement is occuring on Facebook, the engagement on Instagram is red hot. If you simply look at the users, multiplied by the engagement (like, comment, shares) the levels of engagement on Instagram are roughly 10-15x that of Facebook. Yes, the userbase is smaller, but the engagement is the really interesting point here.
If you reflect on some of the strategic moves Facebook has made over the past number years, it's impressive.
We surely all remember their IPO, it was hot but seemed like they were a flop initially as the ability to generate revenue to offset operating expenses was a major question mark.
They started by allowing brands to build enormous followings on the platform, then began to pull back the ability to reach that audience base on purely organic posting alone. The ad business skyrocketed as marketers attempted to reach their loyal customers and acquire new ones.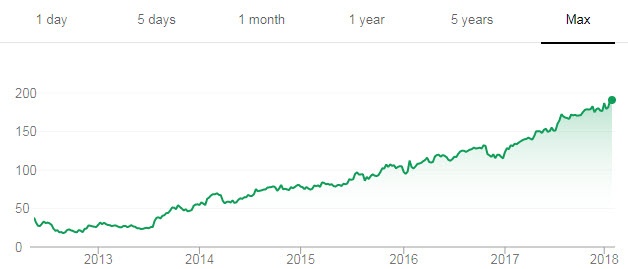 Facebook then pulled one of the more impressive pivots in the history of business (for sure the most impressive I've ever seen in my 30ish years). When everyone was talking about "mobile is coming", unlike the others Facebook did something. They moved 88% (ish) of their revenue from desktop to mobile. What's impressive here is that they did it in roughly 36-months.
Facebook's history of making incredible decisions and moving when others are shuffling makes them one of the best managed companies globally.
For me, their history of making incredible decisions with a high level of forward vision is why I have so much respect for Facebook.
Facebook itself is an advertising platform, its asset is you the user. If you leave, they cannot monetize you. If you stay, they can monetize you…but if you are engaged, they can multiply the cost for advertisers to reach you. The logic all makes sense and for this reason I truly believe this adjustment coming to their algorithim was made to help slow user melt, provide some ability to reacquire users and give the ad side of the business a healthy shot in the arm.
My perspective is that this step will help drive a huge influx of engagement back to the core platform, and I could only imagine what it would be like if the engagement levels would hit those of Instagram. As the engagement rises, the dataset will bloat. Apply the basics of supply and demand to that and you've got a perfect strategy to regain user engagement, accelerate engagement data and throw your revenues to the roof…which likely will push the stock to the moon.
So, will this change make it more difficult for advertisers? From my vantage point, the answer is complex. I do think that this change will push poor ad content out of the news feed, but I also believe it will reward good quality ad content and allow that content to reach further than it does today. A win for advertisers, users, Facebook and shareholders.
From an organic content perspective, I do believe that you will see Facebook pulling back on their downward reach trend. That being said, I believe you'll see some variance based on the quality of the content; A moment in which good content which is generating community engagement will see much further reach and poor content will disappear.
If you are active in this environment, putting a concentrated focus on the quality of the content should be a top priority for you in advance of these changes rolling out.