In this blog you will find:
What is happening to Black Friday?
How does Prime Day impact buying this year?
How will Black Friday happen this year?
What began as a term to refer to the chaos ensuing in Philadelphia after Thanksgiving weekend from the crowds of people attending the Army-Navy football game, has become a world-wide sales phenomenon. Come November, the billboards and flyers for Black Friday sales are everywhere, signaling the one day (turned weekend by the inclusion of Cyber Monday) that prices are projected to be at their lowest in anticipation for the holiday season of buying. Black Friday is the kick-off party for the largest consumer spending season of the year and though it has deviated from its origin, the chaos surrounding the day has remained and spread across the globe.
Getting in front of consumers in time for them to make a sales decision is more important than ever with the inclusion of ecommerce. This year the difficulty will be even greater as the pandemic has caused a rise in ecommerce according to Stats Canada of 110.8% year over year in May 2020. With stores open inconsistently for brick-and-mortar locations, 2020 will be a year of digital advertising to drive digital sales, giving those companies that have prepared well an advantage.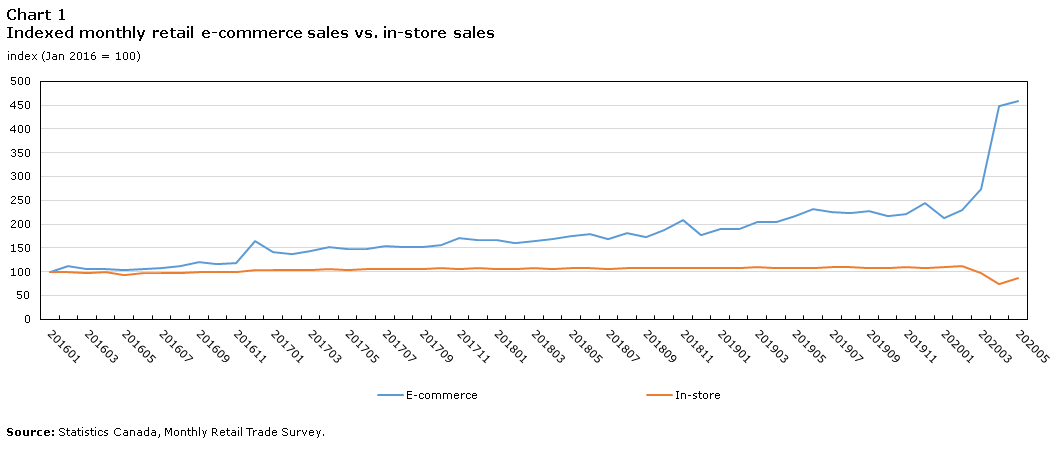 Prime Day
Amazon's Prime Day has been the 'Digital Black Friday in July' for years but with the pandemic's consumer effects taking hold, Amazon decided to push their big sales day back to October 13th this year. Being the largest online sales platform in a year where digital sales have skyrocketed means that consumers began looking at October instead of Black Friday as the opportunity to begin their holiday shopping.
According to Digital Commerce 360 estimates, "Amazon's sales on Prime Day hit $10.40 billion globally over the two-day period spanning Oct. 13 and Oct. 14, up from $7.16 billion during the 48-hour event in July 2019." Amazon has released that third-party sellers made over $3.5 billion this year over the two days, up 60% from last year.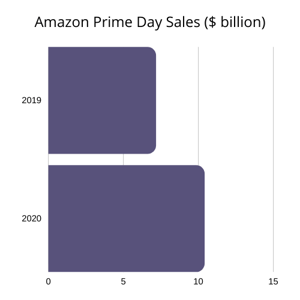 With a study from Dynata finding that "nearly two-thirds of the 1,000 adult shoppers surveyed (62%) planned to do all their holiday shopping online" and an estimated $10.4 billion spent already on Amazon's Prime Day 2020 it seems this event has already kicked off the buying season. But what does this mean for Black Friday? And what can be learned from Prime Day as the warm up for the November event?
Black Friday Predictions
Large online retailers will be the ones to come out on top this year. If Amazon and it's third-party sellers' successes on Prime Day are any indication, consumers that are participating in Black Friday and Cyber Monday will likely stick to one or a few large online retailers that guarantee the packages will be delivered on time.
With the anticipation of such a large push toward digital buying, there is an anticipation that the postal service will be overwhelmed. Malls may be empty but the trucks will be hitting the road in their stead to deliver digitally bought goods right to your door. For Prime Day 2020, Amazon hired a bunch of delivery services to aid in distribution of the goods purchased over the two-day period.
Amazon hired 175,000 warehouse and delivery workers during the pandemic, keeping more than 70% of them on, and opened more than 150 last-mile delivery stations between March and October. Walmart has decided there was a need to do the same by adding 20,000 seasonal employees who will work in fulfillment centers. And CNBC remarks that "the company already hired more than 500,000 employees across its U.S. locations since March." Clearly, behemoth retailers are preparing for a longer and more digital fulfilled holiday shopping season.

Many of the large retailers created their very own events to surround the Prime Day events, Walmart's Big Save event and Best Buy's Black Friday Drop both happened on October 13th and 14th and guaranteed to price match the items bought on those days up until the "real" Black Friday date. What began as a one day price drop event and evolved to a weekend, has turned into a month-long and drawn-out set of price drops for consumers to focus on.
What does this mean for companies?
If you aren't Amazon, Walmart, or Target, then chances are you don't have the ability to hire hundreds of thousands of employees for fulfillment and delivery. However, the most important thing right now is to make sure you know where to find your consumer-base online and how to target them over the next two months. Being precise about your marketing strategy and data collection, and transparent with consumers will put you in a good position to get in front of your audience as they search for their holiday needs. Here are a few things to keep in mind in order to compete with larger online retailers: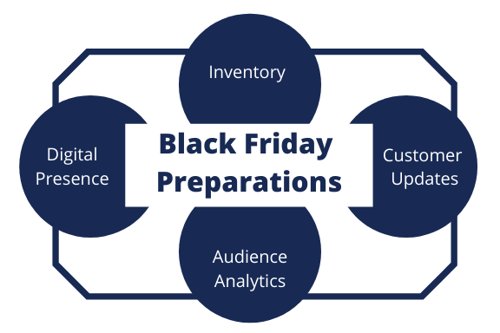 Inventory available
Make sure that you have inventory available and it is

clearly

shown in your digital spaces

. Make the transition from in-person to online shopping as easy as possible by showing them exactly what you have to offer.
Update clientele
regularly
Let your audience know when you are out of stock and when the product will be back in. Be clear and honest about what they can expect this year. Customers will be happier to have a clear answer

while shopping and are likely to be even more

disappointed

in your brand if you project a date you cannot deliver on.
Know where your audience is
Keep an eye on where you are targeting your ads

.

H

eading into the holidays your audience may

be looking into new outlets online for gifts and ideas

and understanding where they are will benefit you both

.
Have a clear digital presence
Make the transition to digital shopping seamless everywhere you are online. Your social media accounts, website, and shopping site should all be aligned with each other to guide someone easily through your sales funnel.




Though Black Friday has been the shopping event of the season for years, Amazon's decision to push back Prime Day has caused other large retailers to compete for space in October, thus drawing out sales from October until December. To compete in these spaces, finding your audience and being precise with online advertising is essential, and those that do it well will continue to fulfill their customers' and clients needs for the holidays despite the changes occurring this year.