Understanding your changing audience, where they are, and what motivates them are all parts in meeting your consumers where they are and delighting them with your brand. All of these aspects are ultimately planned to drive purchase of your product and capture market share. The CPG market is highly competitive and understanding how to keep your product top of mind with your advertising efforts will increase the likelihood of being a first choice for them in the aisles of the store or when shopping online.

The pandemic rocked industries across the globe and advertisers had to quickly change up their strategies to address their consumers needs. By the end of 2020, the anticipated loss in world ad spend was around $63.4 billion, according to WARC and Marketing Dive. Many companies pulled back as sports and events were cancelled and uncertainty in where to direct and how to address consumers made creating and placing ads an almost impossible task.
As 2021 begins to see a light at the end of the tunnel for many advertisers on upping their ad spend and allotting more time and money into their marketing efforts, the difficulty remains in how to address consumers properly. Getting in front of your audience - which has likely changed in the last year - and capturing market share in this turbulent time hinges on the strategies put in place over the next year.
Advertising recency means creating ads that reach your customers right before they make a purchase decision, whether in digital or physical spaces. An important part of staying top-of-mind is found in the creation of a long-term, multi-channel approach. In creating an omnichannel experience for consumers, marketers need to address their campaigns as multi-channel and think of cross-platform advertising as seamless rather than one channel versus another. Concentrating on the cross-channel impacts made over time will give marketers more insight into attribution and a cleaner picture of their ROI.

The shopping segment that will continue to shop brick-and-mortar most often will likely never make the shift over to a digital approach for their CPG shopping but are still hoping for change in physical grocery store environments. As this shopping segment is motivated by the experience of in-store shopping, those brands that are able to delight them while they browse will be on their mind as they choose a product.
A brick-and-mortar consumer, while not as digitally inclined, is accessible to advertisers through newer mediums like Connected TV. When considering how to approach a campaign in gaining market share with this shopping segment, it is important to understand the halo effect in Multiplatform TV advertising. Running ads on on Multiplatform TV creates a boost for other channels where Accenture Strategy found that "on average—18% of the ROI typically attributed by marketers to search, display and short-form video is actually driven by Multiplatform TV." Without considering these effects, the ROI on these campaigns are negatively affected and marketers aren't able to grasp a full picture of how consumers are truly interacting with their brand.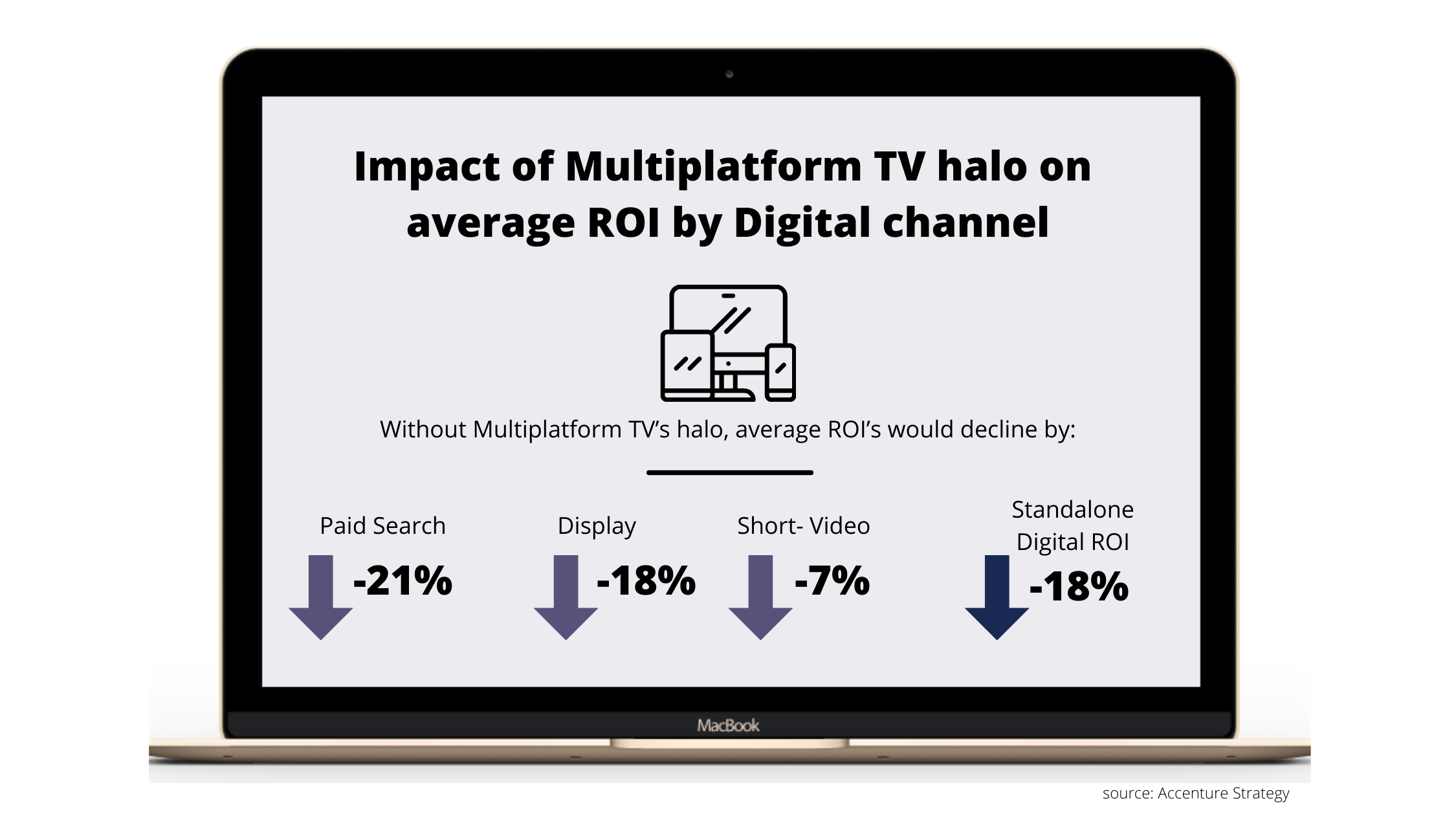 Targeting these consumers may begin on platforms like TV, but when considering the impact made by your advertisements, the cross-channel impact must be taken into account.
Delighting the brick-and-mortar consumer may feel like a familiar task as they are more likely to have stuck with traditional media in the last year and will continue to do so. However, consumers expect more from brands than before the pandemic and creating advertisements that are comfortable may not longer keep their attention for long. Many brick-and-mortar shoppers are still moving toward digital and making your advertisements seamless will create a better overall experience for this segment.

While capturing the attention of an online shopper in the many spaces they inhabit may be an easier task overall, holding that attention is vastly more difficult than that of a brick-and-mortar shopper. The diversity of online media allows advertisers ample opportunity to get in front of their demographic no matter where they are on the internet, but understanding where your customer is right before they add something to their grocery list or make a purchase decision will be the battle of the digital era.
Collecting data
Data and analytics are going to be the most important players as shoppers continue to spend their time online. With the loss of third-party cookies from the largest used browser, Chrome, at the end of 2021, there is a challenge ahead for advertisers on finding their audience and mapping their purchase journeys. This is further complicated by the users increased worry of their online privacy, "A Google/Euroconsumers study found that nearly 70% of respondents believe the amount of personal data collected online makes it difficult for them to protect their privacy. Search interest for "online privacy" has grown globally by more than 50% year over year".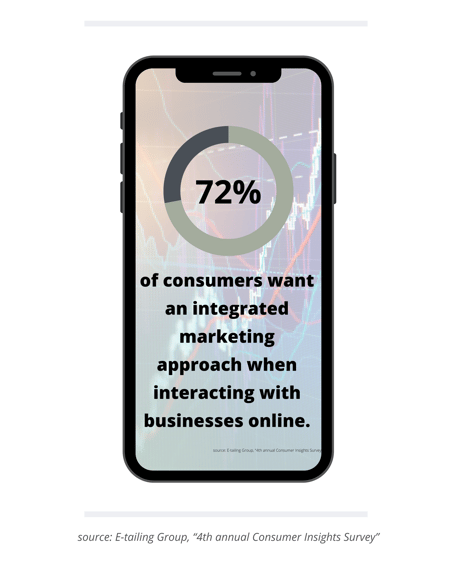 Creating a strategy that works while respecting the privacy of your audience will be the ultimate formula for advertising to your online consumers. Marketers that stay agile over the changes to data collection in the next five years will still be able to provide personalization to their audience while maintaining personal privacy. The transparency and innovation that advertisers show during this time will be impactful on brand reputation for years to come.
Cross-channel data
While the way that marketers collect data is changing through privacy, it is also changing in the way that data is measured. As Multiplatform TV creates a halo affect in other ad spaces, digital campaigns will need to consider the attribution when considering the other advertisements running alongside it, whether in traditional or other online spaces. And though it can be tempting for marketers to take short-term data and use it to create consumer framework, looking at the long-term impact of cross-channel advertising can yield more sustainable results.
The last year has shown a lot of experimentation in new media by both users and brands. Advertisers that can create a cross-platform ad system that feels personalized and engaging will be able to capture the long-term attention of this digital group. Because the online shopping segment is more likely to be consistently switching between media online - sometimes visiting multiple at once - campaigns should consider measuring impacts across media journey's rather than through one singular platform at a time.

As more consumers become omnichannel shoppers, the CPG industry must invest in the omnichannel experience. Brands will need to understand how to advertise their products seamlessly from in-store to online and vice versa to make sure to capture attention just before a purchase decision is made.
The omnichannel experience is increasingly important as users multi-task in their daily lives. MediaPost released a report in 2020 that examined the most frequent media pairings for adults age 18-64. The most popular multi-channel marketing pairings were:
Computer / Mobile
TV / Mobile
Computer / TV
Radio / Mobile
Computer / Radio
Computer / Mobile was the most popular pairing during work hours (9am – 5pm) and TV / Mobile rises ahead in the evening (5pm – 11pm). Keeping in mind that the omnichannel shopper encompasses most of the targeted grocery shopping segment, a cross-channel advertising approach that captures an individuals attention in multiple areas is more likely to keep your brand top-of-mind for longer. And as digital media continues to evolve, tracking where users are is only going to get more complicated.

Omnichannel Innovation
The "always-on" strategy is a good one for gaining information but with increased innovation in the CPG industry there are increasingly more developed ways in creating exceptional omnichannel experiences for your consumers. A cross-channel approach to advertising, as mentioned above, is a great way to understand the journey of the consumer.
The omnichannel consumer blends in-person experiences with digital and advertisers that are able to capture the attention of this group will continue to lead in the market. Understanding that advertisements are not stagnant and that the omnichannel may be influenced by multiple channels at one time should drive the innovation of marketers.
If an omnichannel shopper is browsing in-store while also streaming digital radio or podcasts, there are multiple ways to create experiences for them in that moment. Not only do you have more chance to get in front of a consumer at the moment of purchase, you have more opportunity to create a lasting impression that will increase brand loyalty and interest over time.

As the digital revolution accelerates in CPG, marketers are given a plethora of new options on how to reach their demographic. It is in understanding these changes and keeping ahead of their consumers that will lead to success.
The ecommerce jump and the principal grocery shopper's switch in droves to an omnichannel shopping approach will continue even after stores open. Innovation in the industry has only just begun and at the center of it is data and digitization.