Late in 2018, we started a major renovation project on our company headquarters. The impetus for the change was our limited ability to grow and facilitate increased team collaboration. Both of these goals were restricted by our office layout at the time. We had a few things going for us – we own our building and had deliberately built it 10 years previous with no load bearing walls, allowing us to reconfigure as required. Most importantly, we had a willing group of people who understood that while it would be disruptive to move out while the work was being done, the outcome was worth the pain. So really, we were only limited by our imagination in terms of what we wanted to create.
With the endless global debate centered around walls, barriers, and security, we set out to do the exact opposite in our working environment. You cannot consume mainstream media without being inundated with anxiety inducing content about how we should fear our fellow humans – those who may not look like us, share our cultural beliefs or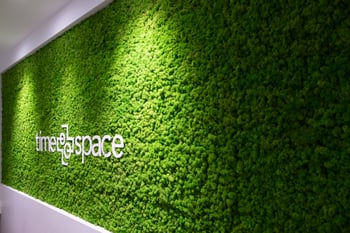 speak the same language. In our societies, too much time is being spent focused on our differences, instead of leveraging our individual and collective strengths. We all can inherently understand the research around the positive impact of inclusion and diversity in business and society. Inclusion happens to be one of our four values at Time + Space. The tearing down of barriers, both figuratively and literally was deliberate in that we were acknowledging that creating success for our clients is reliant on partnership, belonging and respect for those who bring diverse perspectives. In our case, walls are a metaphor for fixed mindsets that can interfere with fostering curiosity, connection and effective problem solving. Our construction had to be re-imagined in the context of what we were wanting to create – idea and knowledge sharing, as well as entrepreneurial thinking. Transforming the physical design of our company's headquarters has been an important catalyst in facilitating a desired organizational culture of innovation.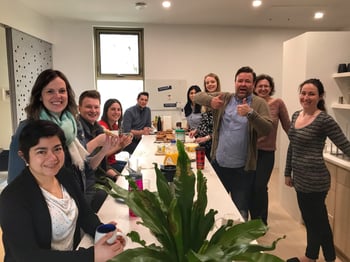 We also considered, as many companies do today, the effect of our work environment on our overall health and well being. Technology is redefining the work that we do and how we do it and that will continue to evolve well into the future. We understand that office design can play a significant role in our well being. Simple things like movement, light, plants and private spaces allow people to take care of themselves while they are at work. In our case, everyone now enjoys a sit/stand desk, access to private rooms, healthy food, green walls, and natural light. Open spaces that accommodate groups can be a wonderful place to learn, envision solutions, and encourage creative ideas. Others among us may desire quiet spaces to work effectively. The best designs accommodate everyone's needs as far as possible. For example, given that many of us spend so much of our lives at work, we designed our fully equipped and stocked open kitchen with the appreciation that sharing meals is an important way that we can foster social connection. In a world where we are more often connecting through technology, the act of sharing meals together is a radical and important way to get to know our clients and colleagues more intimately.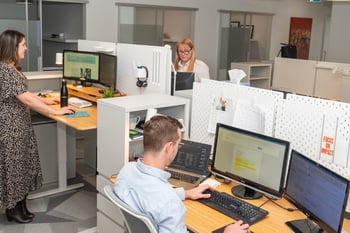 We've have had a lot of people ask us about the ROI on our renovations. This is a more difficult thing to measure although we did facilitate a best use analysis prior to jumping in. Ultimately, an investment in a good workplace design is an investment in your people, it is an investment in your culture and an investment in your brand. Any considered investment in these areas an is a long term play that is essential to sustainability and growth. So, do I think it will pay off? 100%. I think that it already has. As a community we are proud of our place and the work we do together.
In many industries, it is understood that 'renovating your brand periodically helps you protect your core and build sustainable platforms for future innovation and growth.' That makes a lot of sense and in fact, prior to our renovation we embraced the opportunity to engage in a brand refresh that better reflects our continued commitment to evolving our relevance in a changing world (more on that in a future post). It also reflects our own excitement for the innovative projects we are currently working on, both for our own business and for our clients. Check it out here.
Around the same time as we were anticipating the project, we had formed a connection to two emerging entrepreneurial companies that shared our values of purpose, courage, and collaboration. The association with skilled, experienced partners was instrumental in the beautiful outcome. So, with the intention of tearing down walls and a shared vision with Bruno Builders and By+Large Design Studios, we set out to renovate our space for the future. I can't say enough about these firms and their founders. They embody the true spirit of partnership. What could have easily been a frustrating project turned out to be full of possibilities, on time and pretty much on budget. If you are looking for a great team to help bring your vision to life, consider connecting with these firms.
Our office renovation was a 'nod' to the future, a re-commitment to our values and an opportunity to look at the landscape with collective curiosity and excitement. That's a lot to pack into a renovation I know. But, for us, it was a deliberate pivot to see ourselves and the world differently.