In this blog you will find:
The benefit of digital audio for marketers
Intro to Spotify
The growth of digital music and podcasts
Digital Audio: A Unique New Media Opportunity
Digital audio - specifically through music and podcast subscription services -
is an evolving channel that reaches consumers at any time without requiring their visual attention: through their mobile phone while commuting, in a café on their desktop device, or at home through their smart speaker or connected TV. This is audio's most significant advantage, whereas television demands users are watching commercial breaks from the comfort of their couch or social media advertising counts on users scrolling attentively, audio can be consumed on the go.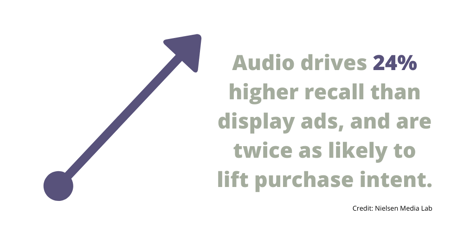 Digital muisic and podcasting as a new media platform has the benefit of capturing consumers that are highly engaged with content they are actively choosing to consume, whether that be their current favourite playlist or scrolling
to discover a new sports or murder mystery podcast. Compared to a static image or video watched without sound, audio could be considered more memorable – a Nielsen Media Lab
study found that audio drove 24% higher recall than display ads, and were twice as likely to lift purchase intent.
Introduction to Spotify and Its Advantage
Spotify is a digital music and podcast streaming service that can be accessed through their website or app, giving users access to media from around the world and allowing them to follow their favourite artists, friends, or create their own playlists. For those holding a Spotify Free account, around three minutes of ads will be served per hour, spread out in breaks between content. This exclusivity is another benefit of Spotify - whereas on scrolling Facebook you may be served several ads within a few minute range, Spotify users are briefly interrupted with limited, memorable messages (category exclusion applied) before their content begins again. To increase the connection between your ad and the user, Spotify suggests
thinking of the message 'less like an interruption and more like a story' (
https://www.spotifyforbrands.com/et/insights/the-power-of-audio-chapter-2/)
.
Spotify Placements
On a platform like Spotify, there are a variety of ways to connect with Spotify Free users:

through audio, video, and display ads and different ad experiences such as general ad breaks, sponsored sessions, sponsored playlists, and other unique exposure opportunities.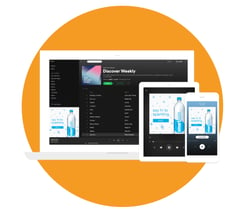 As with all media channels, there are benefits to the different placements – the non-skippable audio and video formats are useful in spreading awareness and story telling to attentive users. Display placements have proved to be more effective in driving clicks as users are actively scrolling the app or website and there is a direct call-to-action.
Reaching your Target Audience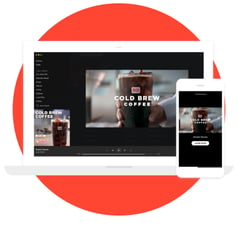 As new media in the digital realm continues to evolve, Spotify is diversifying their offering and becoming an audio giant that consumers could favour – for example,

Spotify has secured an exclusive deal with Joe Rogan's popular pocast

, The Joe Rogan Experience, to drive a significant number of users towards Spotify and away from other audio content providers.
As the platform continues searching for these partnership opportunities, the demographic pool advertisers are able to reach on Spotify will expand to target niche groups. In working with Spotify in the past, Time + Space has used their current targeting capabilities to reach users based on more than just age and location, for example aligning with the content's mood or consumer interests such as sport enthusiasts. Consider when your target consumer may have plenty of free time and is looking for entertainment: driving in their car. Instead of counting on radio or OOH formats which cast a broad target and can be difficult to measure, Spotify and other digital audio subscription platforms offer personalized content and specific ad targeting.
Why Digital Audio?
Whether consumers' lives become more busy with multitasking or we continue to spend more time at home during current times, audio is an important tactical consideration for media plans as it can be integrated and impactful in either experience.
With digital audio subscription platforms you can:
Advertise on both music and podcasts to reach a varied demographic
Reach niche audiences
Use extensive and diversified targeting Audio and display
If you are looking to execute a media plan in audio and are looking for some assistance, check out our services.