By now you've likely heard of TikTok. Whether it was the ownership debate in the US in Fall 2020, a viral cat video, or the app store telling you it was the most downloaded app of 2020, it is difficult to ignore TikTok's presence. Launched internationally in 2017 by the Chinese company Bytedance, the app merged with the already established, Gen Z favourite Musicl.ly in 2018 and began its ascent as a social media giant. Today it boasts more than 9.4 million active users in Canada monthly that average 85 minutes of usage per day.
What began as a lip-synching and dancing app has expanded to be so much more. Similar to platforms like Reddit, TikTok has many corners and sub-categories to showcase everything from cooking tutorials, comedy videos, viral challenges, and everything in between. Users often 'stitch' (integrate scenes from another TikTok into your own) or recreate viral videos by using the same audio clip to add their own flare or join in on the trend. Its algorithm is built to track a user's likes, follows, shared videos, and other activity on the app to feed back similar content to meet the user's interests.
The app is split into two feeds: "Following" where the individual can watch content from those they have exclusively followed (much like Instagram) and a "For You" page (FYP) that shows the individual content they may enjoy. TikTok's algorithm is built to track a user's likes, follows, shared videos, and other activity on the app to feed back similar content and the meet the user's interests.

Unlike Instagram or Twitter, where the content you encounter when you first open the app is from those you follow, TikTok opens to your FYP. Users are encouraged to watch, engage, and share content outside of who you follow, aiding TikTok in understanding who you are.
TikTok's Usership
Generation Z, born between 1997 and 2012 (with much debate over those dates), has adopted the platform as their social app of choice with 55% of TikTok users in Canada belonging to this generation. However, while TikTok may be thought of as a young platform, 77% of the Canadian users are 18+ and 43% are between 25-54.
TikTok is a powerful platform to reach your audience in a rare way: unlike other social channels such as Facebook, TikTok uniquely captures users' attention as they lean-in to full-screen video with audio automatically enabled. The targeting capabilities that exist on TikTok are comparable to similar digital media platforms: age, location, language, and interest-based targeting.
Aside from its rapid increase in usership and ability to grab consumer attention, TikTok has the advantage of extending reach to users that are not active on other social media channels; 35% of TikTok users are not on Instagram, 40% are not on Facebook, and a whopping 61% are not on Twitter. Given the number of users, that is over 3 million Canadians you would not tap into through other popular social media platforms that may be included in your digital media plan.
The Business Opportunity on TikTok
TikTok launched their business platform in 2020 and continues to create opportunities for advertisers to reach their target audiences. The popularity of the app stems from its fast and accurate algorithms, collecting data and serving users content that they are likely to enjoy. Using this data, advertisers can easily insert their products or services knowing that it will be shown to those who consume alike content.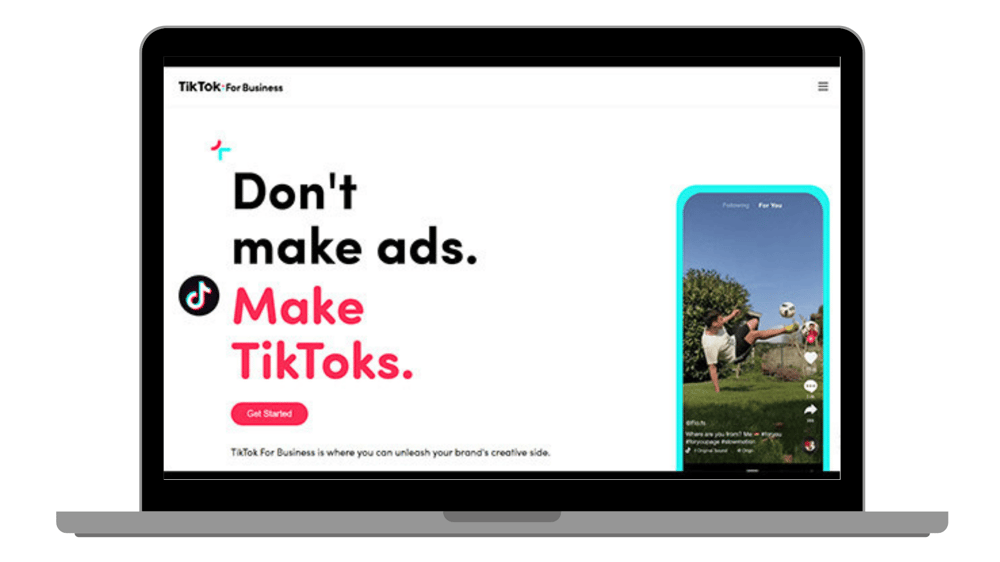 Advertising options on the platform include hashtag challenges, top view takeovers, or in-feed ads. Rates are provided based on the quarter's usership, however because the platform is growing quickly, TikTok often substantially over-delivers on estimated performance. Additionally, influencer partnerships on TikTok have become an appealing option, especially as the FYP's popularity allows creators to reach those outside of their follower-base. For example a Canadian fashion and travel blogger @taniamotuzas with just over 7,000 followers on TikTok has received over 100,000 views on her videos.
With the expansion of e-commerce in 2020 and the growth of TikTok happening in parallel, it was only a matter of time before they tried to integrate the two. Bytedance has started testing e-commerce on the Chinese version of TikTok, Douyin, allowing users to purchase products while remaining in the app. Back in October 2020, Shopify partnered with the platform to bring partnering ecommerce into North America and the UK. As TikTok continues to grow, we can expect more opportunities for both users and advertisers.
Your TikTok content
While you may be convinced that TikTok is a fascinating platform worth considering in your media plan, what content to create for strong performance on the platform is a grueling question. Challenges, trends, and popular audio clips rise to viral status quickly on TikTok and may dissolve twice as fast. With the amount of content being posted - Canadian users alone post over 29 million videos a month - advertisers need to share stand-out creative to keep users from swiping up to the next video.
Due to the time it takes to develop a creative concept and asset, there is risk in aligning with popular and timely trends because they may be less relevant by the time a campaign launches. TikTok's best practices include testing diverse creative in early stages to learn what resonates best with your target audience on this unique app.
The Privacy Debate
Back in Fall 2020, the US Trump administration created a vendetta against TikTok to sell to a US company at the risk of being shut down and banned from the country. While this wouldn't affect Canadian users directly, the growth and opportunities on the app would be greatly affected and could see the end of the platform. However, TikTok was able to begin negotiations with Oracle and Walmart to buy the app and many of the qualms were diminished. Currently, the sale is on hold once again as the new US president, Biden, begins his own inquiry into the safety of the app. The debate began over suspected claims that the privacy of users data was being sold to Chinese companies, something confirmed by Bytedance not to be the case.
Moving Forward
TikTok is a platform that is creating waves and can no longer be considered a trending app among the younger generations but an excellent place for businesses to advertise and grow a community. The unique reach, precise data allowing the platform to find similar audiences, and brand opportunities offer brands that choose to advertise or partner on TikTok a way to find their niche in a way that other social platforms cannot.