There I was, young and ambitious and absorbing as much as I could at business school. The approach I needed to take was seemingly simple, and my understanding of what I would experience (in my own eyes) was clear.
Fast forward to two years into my career, after I had landed a gig with a start-up. We were scaling quickly and then the brutal reality hit. Hard.
Nothing could prepare me for the feelings of instability I felt. Every day I was virtually shell shocked entering the office. Not a day passed without me thinking, "Will someone get axed today? Will it be my boss? Will it be me? Am I safe?"
Nothing could prepare me for these feelings of instability. My boss was just let go, so now what? I had been moved in a re-org, gotten a new boss and a new team, and was left wondering if I would be let go next.
What I've begun to learn is that my expectations about the sequential phases of start-up, scale-up, established and maturity were in fact correct, but lacking an understanding of what came during those phases. Had I known, perhaps I would have a fewer grey hairs and certainly a few less sleepless nights.
What we each experience as a business grows, when we experience it, and how our respective organizations respond becomes a critical junction for us all. Regardless of your perspective on the business life cycle, understanding why your organization is experiencing a change can add important context to help you, as a member of a team, mange your personal energy and the energy of those around you. I would also suggest this becomes specifically important for those team members under the age of thirty within your organization.
This understanding is what I truly needed, but learned the hard way.
Business phases tend to have peaks and valleys, and changes that occur during each of these phases can be stress inducing and cause emotions to run high: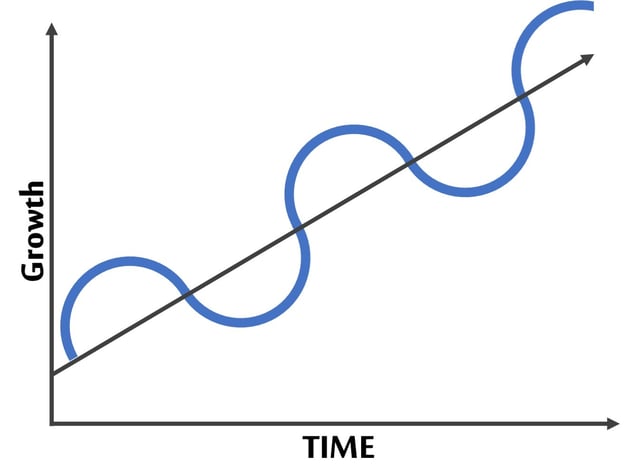 Let's break down and examine each of these phases:
Phase 1 - Decline of the Current Establishment
This phase is potentially the most significant moment of change for an organization. It's the point in time during which new leadership installs a change in organizational direction. This can be a tense moment for everyone involved, although this should be an extremely positive moment for the organization as a fresh perspective is now here.
We've all seen and or experienced this at one point in our careers. This can be an extremely stressful time for an organization as the looming change is undeniable.
Phase 2 – Innovation to Address Business Model Inadequacies
This is the moment when the new regime begins to hit their stride. Projects begin to be defined and delivered and, in many businesses, innovation will be developed to expand markets, improve operations and/or business margin.
This can also be a shake-up moment for the team, as those who are able to adapt will see great potential in the future. Those who were great for the organization in the past, but not the future will likely get squeezed (or squeeze themselves). This is also a moment where the new regime will bring in some veterans to help them execute.
Phase 3 - Organization Begins to Rally Around New Establishment
This is the true delivery moment. The vision has been set, the team has been assembled, and the organization is ready to begin moving forward. This phase is an exciting and rewarding time for everyone.
Phase 4 - Adoption of Innovation
With any change in business model, it takes time for adoption to occur. For many, they will need to see the positives of the change before they get on board. That could come via new revenue, improvements in client relationships, an improved competitive advantage, etc. No matter what the experience is, when change occurs and positive impacts are felt, the adoption ramps quickly.
Challenges undeniably exist here, and organizations can be caught in a painful and difficult period.
Phase 5 - Rapid Growth of New Establishment
Moving smoothly from phase 4 will open massive growth for an organization. During this phase, a new team is installed, and a vision has been set and executed upon. Things are working, and you should celebrate!
Phase 6 - Celebration & Panic
Too much of a good thing? That can happen. Every business will feel pain as they scale. Adaptation of how your organization operates must be dynamic in this moment because your ability to maintain the experience you desire will be challenged.
This is natural and undeniably positive for an organization, although breaking through this tense moment is critical for continued growth. Some businesses may simply hit the "wall" at this point and maintain, which may be completely satisfactory for the business. If this is your approach, that is great, but understand that you will be a prime target for competitors.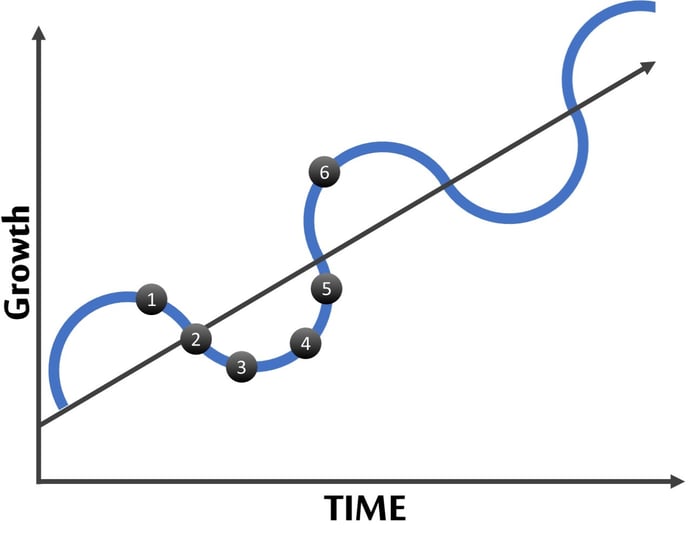 Check out our blog on Vertical Competition. It's well worth a look if you are feeling like you are ready to take on a competitor or fear you may be under attack.
These cycles share a common tendency to exhibit a volatile environment during both the peaks and the valleys. This is primarily due to the fact that when in the deep valley of a cycle, pressure will be intense surrounding the seemingly poor business performance. It is common to see a change in regime at this point, although also as common is that is, the strategies defined to pull the business out of this phase will be potentially significant and establish improved performance in the future.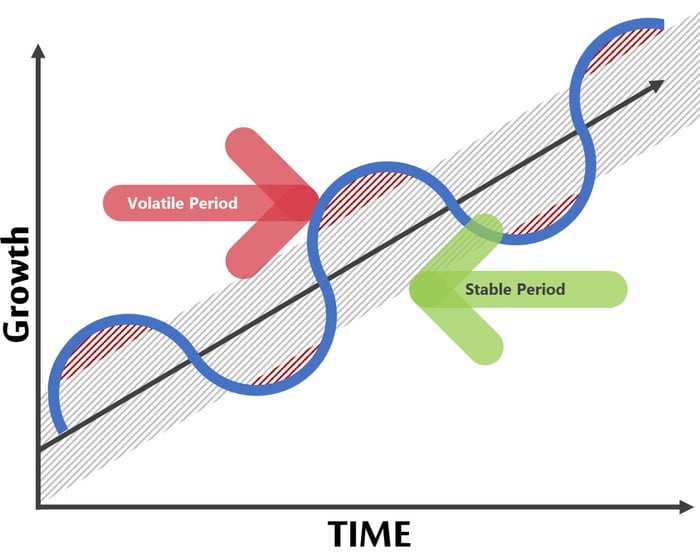 We also see a volatile environment during the peaks, when the core business KPI's are sparkling.
We've all had that feeling when things are running seemingly "perfect". However, even the most perfect systems are put into moments of stress. Continuous pressure means something must give and, for many businesses, this can impact the ability to meet commitments due to over-stretched resources or could even manifest as a loss in customers.
Within the business phases, organizations must actively move themselves beyond the current phase. A failure to do so will result in a stalling of business growth, essentially placing the business in a notional black hole. The organization will begin to see frustration, turnover and lack of clarity, all variables which can pull a business into the red.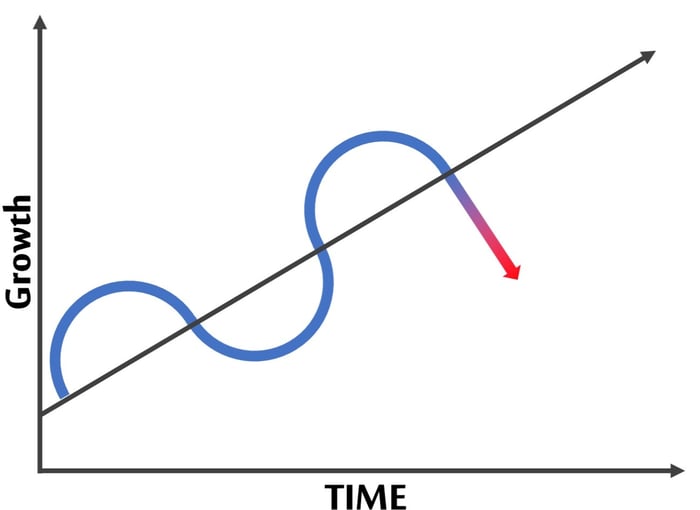 When looking at the phases a business must pass through, we see a significant opportunity when a business is within a volatile moment. As mentioned above, innovation within the organization is key but from our vantage point it, alone, may not be enough to propel your organization forward into more prosperous times.
How A Business Partner Can Help
Time + Space works collaboratively with businesses in a variety of industries, in both B2B and B2C environments. These organizations all lust after high-growth and experience highs and lows as they scale and move through these cycles. It has been clear to both our clients and our organization that we play a critical role for organizations experiencing volatility and ultimately prosperity, and that a partner can help drive long-term business value and growth by supporting critical phases of the journey.
From a partner's perspective, we help our clients navigate a series of sequential organizational priorities which can support an organization navigating the phases noted above. These priorities tend to be sequential and in parallel to a number of the above noted phases, and historically supported by the Sales & Marketing teams. Understandably these do vary slightly from business to business, but the phases during which the marketing team can really dig in and create action can be summarized as follows:
1. Establishing Strong Brand Equity - We are in a day and age in which marketers are beginning to be entirely coin operated, focusing only on the conversion. In order to begin to propel your organization upward, significant brand equity must be established. Gaining momentum in the market is virtually impossible without a brand that people desire. Skimping here can have disastrous effects in the long run, but investing wisely can put you in the driver's seat and push you into a territory where your margin elasticity begins to expand. Remember, the more desirable the brand, the more leverage you will have for irrational margins (think Apple).
2. Sales Capability - After brand equity has been established, your organization will begin to develop market demand for your product and service. Establishing the ability to service that demand will become critical for your ability to monetize the opportunity in front of you.
Establishing a sales culture, or at the very minimum a sales division of your organization, will be essential to capitalize on the brand awareness and demand which has been created. You may be familiar with the saying "make hay while the sun shines." At this point the sun is undeniably shining bright.
3. Channel Partners - Adding more and more sales capacity to your organization is an option, but one that can be somewhat limiting due to a variety of factors. Significant acceleration in your business may be facilitated by seeking channel partners. Channel partners should be complementary businesses who can help monetize your product or service as a value add to their clients. Finding channel partners that help you access untapped segments or markets is preferable as this can be viewed as non-competitive to existing sales teams.
4. Product Development - Establish brand equity, unlock sales capacity and secure the worlds best partners, that will do the trick. But the catch is that your competitors will inevitably improve on your model or product offering, shifting gears when you begin to see your window narrowing is essential. That shift may not require much work, although in some cases the effort could be significant and mean a considerable pivot in approach.
Focusing on developing your offering will help give you a continued advantage in the market and ensure you don't become an afterthought.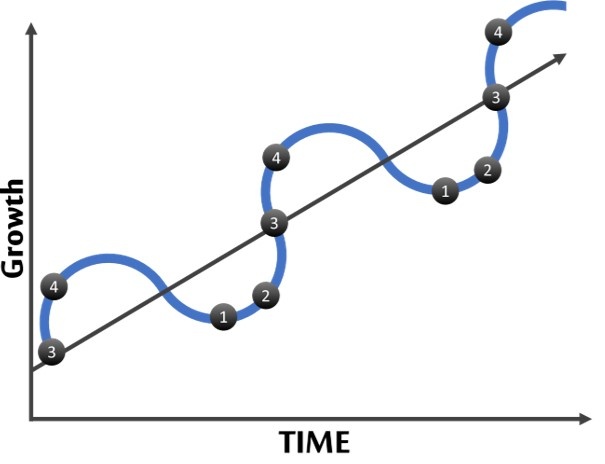 Businesses who may not see changes in their regime will still pass through these business phases, although the focus will be on the Brand/Sales/Partners/Product gates versus a focus on establishing a new regime.
Both moments in time are ultimately inevitable, and how your manage within those times truly defines your organizations ability to grow. Organizations that are unable to solve these issues within their business ultimately will begin to see their business stall. Inversely those who are able to solve these issues can accelerate beyond the challenges of scale and proceed to new and higher-levels of success.
---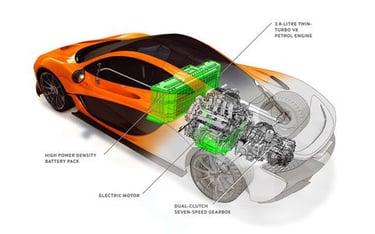 In today's extremely competitive hyper-car environment, manufactures such as McLaren and Ferrari have deep legacies of developing traditional combustion engines, although their ability to continue to deliver incremental performance has been limited. To address this, manufacturers are applying hybrid technology to supplement the baseline performance from the combustion engine. The combination of the two allow today's modern hyper-cars to see phenomenal performance figures, as their automobiles are able to cross a boundary with assistance. Today's marketing agencies essentially work in the same manner, applying support at key intervals to help push a business faster than ever before.
---
Each volatile moment in time is followed by a period of stability. That stable environment emerges from the solution to the volatile periods. Addressing operational constraints, supply chain challenges, and even competitive challenges allows for smoother sailing ahead. But as noted previously, periods of stability are always followed by a repetitive moment of volatility.
These periods of stability allow the organization to "breathe" and prepare for the future. That can mean different things for different levels within the organization. But the one commonality should be an understanding that, as a businesses grows, there will be a series of phases it will enter and exit. Some will be painful, others will be energetic. No matter what you experience, just know it's inevitable and you play a role in pushing your business forward.
Follow us over the coming weeks as we continue to delve into the business life cycle discussion, and examine the various actions and approaches for navigating the treacherous waters of today's modern business environment.