In this blog you will find:
What is UI and UX and how do they differ

Why good design is important to your company
How UI/UX will increase your ROI
How many times have you clicked onto a website only to be immediately confused on where to find what you are looking for? Or maybe you can hardly read the font, or the colours are too abrasive? It probably made you want to leave the site altogether and that business lost a potential reader, customer, or client.
As many companies were forced to conduct business in a digital space, if they hadn't already been, by the Coronavirus Pandemic it became increasingly clear that the need for a comprehensive and compelling interface and experience online was instrumental in leading your business to success.
UI (User Interface) encompasses the details of the user's appearance such as colour, font, and overall design.
UX (User Experience) is defined as all aspects of the end-user's interaction with the company; it's products and services. In design, this is particularly important in the user's interaction with the company website.
For any company operating in a digital age, having good UI is important to having successful UX and effective UX will successfully convert new leads.
If your company was a person, much like we looked at in re-branding Time + Space, the UI would be your first impression of them and UX would be how you felt after having a conversation with that person. Your company needs to be successful in both to create, convert, and maintain clients and customers. "According to a study published by Forrester Research, a great UI could increase the conversion rate of a website by 200%, a great UX could increase the same by almost 400%."
When working on a good UI/UX strategy, different elements will be more and less impactful depending on your industry and your audience as well as what your company is looking to get out of your digital presence. Below are some general tips that may be helpful to start thinking about the way your audience interacts with your company online:
Some Tips for Good UI Design:
Responsive
Responsive design or Responsive Web Design (RWD) is a dynamic design approach that allows the user to view your website or information page on a variety of different screens while maintaining the integrity of the UI and UX. It is important that the face of your company is accessible in all forms so you can cover the base on demographics.
Media in Canada reports that "the majority of Canadians are multi-platform users, with 59% logging into desktops, smartphones and tablets." Therefore, having a responsive interface is essential to keeping users on your site and increases the likelihood that new leads will continue down your funnel.
Knowing where and how your audience is primarily engaging with your content and looking for your business, whether on their phone, tablet, or laptop, will help you understand how to better engage them in your responsive design and throughout your stages of interaction.
Visual Hierarchy
Great websites have great visual hierarchy, allowing users to quickly identify where they and what the content is all about at a glance. Prominent headers, less prominent body content and a good use of white space are all key.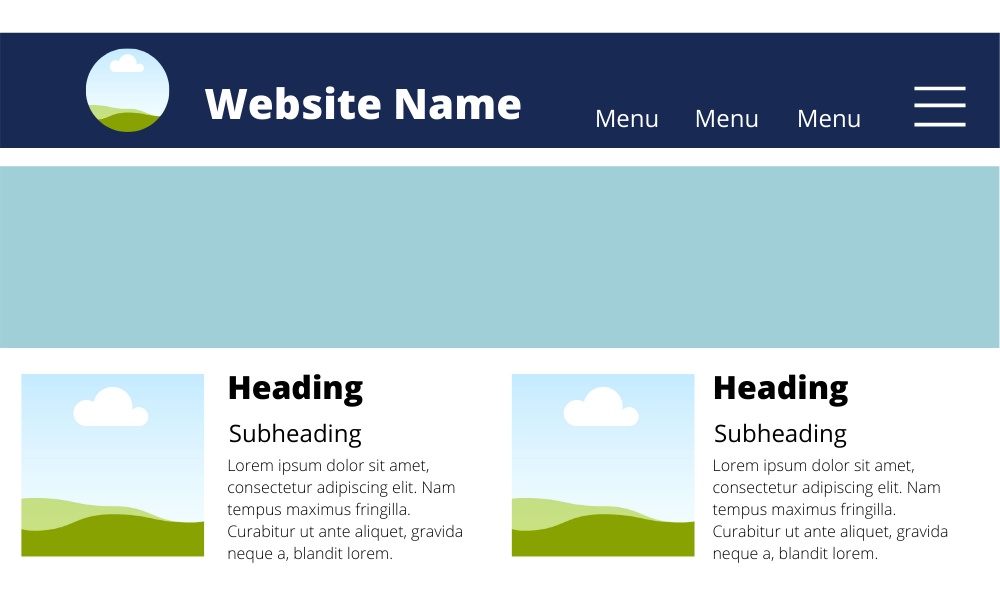 Images/Videos
Because people are different types of learners, your website should have intriguing elements that appeal to a wider audience. Adding images and videos will engage those that take information in a visual and audio learning style. Break up or back up written content with elements that enhance the readability and overall look of your website or page but don't simply throw an image in, make sure it makes sense to your brand and persona as well as the content.
Graphics and multimedia should be related to the content of the site and should be used to help convey a message. Avoid stock images if possible. Ensure that visual barriers are not created by the placement of images and multimedia.
According to data by Hubspot, "73% more visitors who watch product videos will make a purchase." Content that is displayed in a meaningful and enjoyable way can help boost the discoverability and ultimately the sales of your products and services.
Clear Links/ Calls to Action
Sometimes simple is best and when it comes to your UI, making your website comprehensive is more important than trying to immediately make a connection; good UI makes that connection for you. This is why you should shy away from too many pop ups or buttons that make the page difficult to look at.
Clear and direct calls to action drive user engagement. Having clear, direct and prominent calls to action placed on the site will allow for your site to increase the conversion rate by driving deeper user engagement along the visitor's stage in the buying process.
Some Tips for Good UX Design:
Forms
Make connecting with new leads and interested parties easy. For an initial connection, the information they fill-in to your company, whether to sign up for your contact base or to download a report, should be quick and simple. Break down as many barriers as you can on the company's side to make it easier for your leads, this may be reducing the amount of questions, using drop-downs instead of blank boxes, or even auto-linking to a social media site if it applies.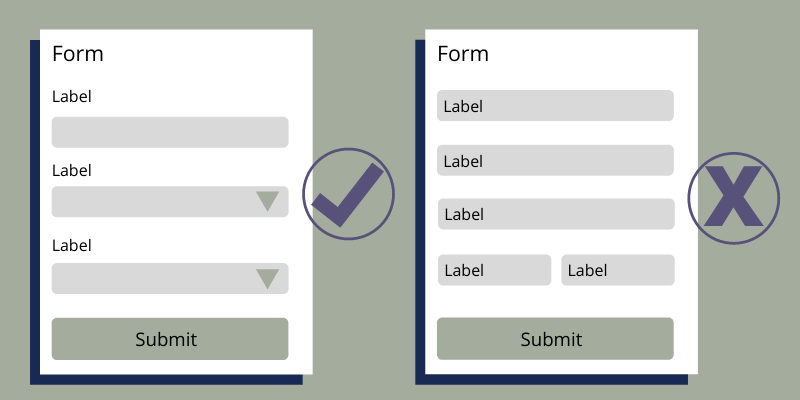 Consistent Branding
A user should be able to visit your website and social presence and recognize your company at every touch point. According to Content Marketing Institution, "89% of B2B marketers say brand awareness is the most important goal, followed by sales and lead generation". If company branding is clear and consistent across your digital tools your audience will build a sense of trust in your company simply by looking at the design elements you have chosen.
How UX/UI will help your ROI?
When you understand your audience's needs at every point in their digital path, the flow to having a meaningful and long-lasting relationship with customers and clients is set out. Your first digital impression on consumers and clients needs to be memorable and easy to continue fostering those relationships.
According to Forbes and a model done by Forrester, "The synthesized results project a median per-project ROI of 229%, with three-quarters of projects doubling their investment or more. Examined at an organizational level, a mature design thinking practice can achieve an ROI between 71% and 107%, based on a consistent series of inputs and outputs." and McKinsey & Company analyzed that "the best design performers increase their revenues and shareholder returns at nearly twice the rate of their industry counterparts." Showing that having a robust design experience that speaks to your target demographic is an essential strategy to business growth.
The Surge of E-Commerce
The shutting down of retail stores in 2020 due to fears of the Coronavirus pandemic created a massive change in the way people consumed their goods and services. "Statistics Canada says e-commerce sales hit a record $3.9 billion in May, a 2.3 per cent increase over April and 99.3 per cent increase over February." This means that those companies that lacked on an e-commerce website were at a disadvantage and those without proper UI to direct consumers on where to buy products online lost the trust of their demographic.
Even after the end of the pandemic, the desire to make virtual purchases may continue. Global News reports "The longer we are in this state of being, the greater the likelihood that this (online shopping) behaviour will stick." And whether consumers decide to make online shopping a part of their routine or not, companies that have invested in the interface and experience of their online presence will be the ones who will see more visitors following through on their purchases and coming back again.
At the end of the day, your UI and UX should link back to the core personality of your brand and your values. If you are looking to evaluate your brand persona and what your consumer base is looking for or you need a UX analysis, look at our services to see how we can help.