The fashion industry is one of the largest in the world with a market value of $2.31 trillion CAD. Luxury fashion conglomerate LVMH, is the 16th most valuable company in the world, just three spots below Walmart and 10 spots above Meta. Nike, Hermes, and Dior all sit within the top 100. And with the clothing industry having an audience base that is vast and diverse, there exists many opportunities for fashion brands to connect with consumers.
However, despite these opportunities, the fashion industry has traditionally been a mixed bag when it comes to advertising with some brands more proactive than others. While mass market apparel brands like Nike spent 3.5 billion on advertising alone in 2020, luxury retailer Louis Vuitton didn't even run a TV ad until 2012. Luxury brand advertising has usually been confined to the pages of fashion magazines like Vogue or Elle. However, with the continued rise of social media and evolution of technology, apparel brands of all sizes and price ranges have more opportunities than ever to connect with consumers.
Google Multisearch
Google images has always been a valuable search tool for consumers looking for fashion inspiration or to find a specific image. It was, after all, Jennifer Lopez's famous Versace dress that "compelled Google to create its Image function in 2001". Fast forward to April 2022, the search engine introduced a new feature that is particularly appealing to the fashion industry; Multisearch. Multisearch is available on the Google app on both IOS and Android and allows users to search with image and text combined. Maybe your friend is wearing a nice hat, but they bought it a while ago and it's now sold out. Or maybe you want it in a different colour? Using Google Lens, you can take a photo of their hat, add your desired parameters, like colour, and from there Google will display visual matches to the item from retailers across the internet with prices listed for an easy, streamlined shopping experience.
This ease and convenience means the visual search function is one consumers have been quick to make good use of. "A survey of 2,000 US shoppers conducted by Google recently discovered that 68% have taken a screenshot of a product they were interested in, and 70% of these then proceeded to purchase it. However, 66% also reported wishing to be able to find further variations of color or print."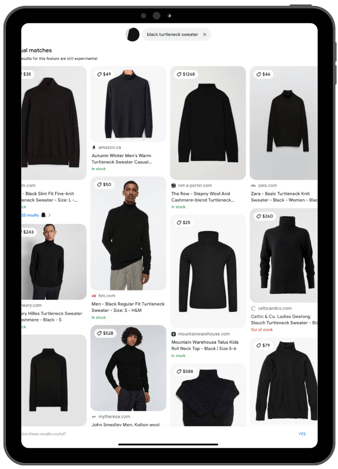 This new feature is advantageous for consumers and brands alike. For consumers, it means they can quickly find products they like, regardless of how niche or specific. Assistant professor of marketing at NYU Stern School of Business, Jared Watson, says '"This should significantly increase the efficiency of consumer searches. Similarly, consumers may be watching an Instagram or TikTok video, screenshot the outfit and find worthwhile substitutes [rather than] messaging an account and hoping for a response."' And this is good news for brands because it means their products will be more visible, and consumers will be able to find the exact item they are looking for. As such, fashion brands should ensure they are using top quality images for their products as that will be what a consumer sees first and can determine whether they choose to click, in addition to impacting where your product ranks in the results.
Furthermore, while brands like Zara and Nike are household names, there are many smaller brands that fly under the radar, unknown to many consumers. This feature can bring attention to newer and/or niche brands that consumers might not have heard of before or allow them to find more affordable versions of luxury items. It also allows consumers to shop everyone's outfits on their Instagram feed, rather than just influencers who list the items they're wearing in sponsored posts.
Augmented Reality
Augmented reality is not virtual reality, but it gives consumers the option to try items on virtually when shopping online to get an idea of how they might fit or look and can help make consumers more comfortable making online purchases. In fact, "56% of shoppers surveyed by NielsenIQ said that AR gives them more confidence about the quality of a product, and 61% said they prefer to shop with retailers that offer AR experiences."
Gucci and Snapchat
Gucci was one of the first brands to implement the tech back in 2020 when they collaborated with Snapchat for a campaign to drum up interest for their sneakers release. With Snapchat, they created a filter that lets people try on men's or women's sneakers in two different colourways. Users could then click a link within the app to take them directly to the Gucci site to purchase the shoes of their choosing.
The collaboration was highly successful and garnered 18.9 million unique impressions. Despite the campaign initially being launched to generate awareness, according to Snapchat, "the shopping AR experience generated positive ROAS, as Snapchatters were purchasing the products from the app". Other brands took notice of their success and now shoes from Nike, Fendi, and Balenciaga are available for virtual try on.
While augmented reality tech is still new and thus, has some bumps to be ironed out, it's clear that it can increase purchase velocity amoung consumers. And while many of the Gen Z users that make up most of Snapchat's user base cannot afford the shoes (at least not right now), by creating these filters, Gucci is cementing brand awareness within the next generation of consumers.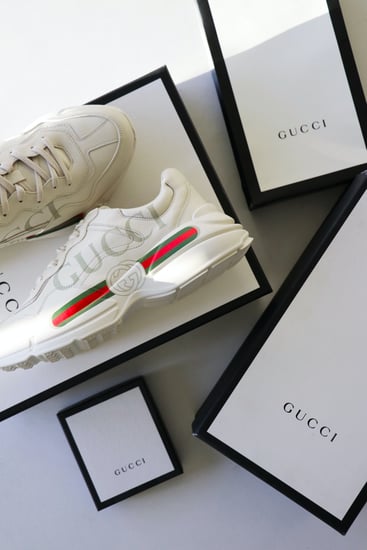 Live Video Shopping
Buying clothing online can be challenging for consumers because they are deprived of the sensory experience that in-store shopping provides and while augmented reality helps, it is not a perfect replacement. Live video shopping is the solution some companies, like Ghost Retail, are bringing forward to help consumers and brands alike. The service aims to replicate the in-store experience by allowing customers to book private shopping experiences with associates. During these sessions, the customer and associate can browse together with both parties having the ability to add items to the shopping cart. When the client comes across an item they like, the live shopper can display the item on video. This allows the consumer to get a more in-depth look and accurately determine if it's something that they'll like and/or will work for them. This kind of tech has proven highly effective with brands that have implemented it experiencing "12x more conversions and a 40% increase in average order value."
Social Commerce
One of the greatest effectors of the fashion industry is the rise of social commerce through social media platforms like Instagram and Pinterest. Being one of the earliest and most popular visual platforms, Instagram has had the greatest impact. Consumers are able to browse the platform and the pages of their favourite influencers and shop directly from the app. And with "a survey conducted by Search Engine Watch [finding] that 73% of US teenagers say Instagram is the best way to reach them with new fashion items and trends", it is imperative that clothing brands have a strong presence on the platform.
Pinterest, another explicitly visual platform, is also a big player within the industry with "fashion [being] the third most popular category and account[ing] for 45% of the activity (search, favorites and pins)." Like Instagram, it also has a social commerce feature, but unlike Instagram, images are not displayed in chronological order and are able to sorted into groups. This is particularly useful for an industry that is heavily collection based and this feature allows brands to create a highly curated experience throughout their page. Further, by grouping into collections, brands can create looks for consumers. A consumer might have only been looking for a pair of pants, but by creating mini capsules, you can sell an image to a consumer and make it more likely for them to purchase another piece from the grouping to create the intended ensemble.
Buying clothing online can be challenging for consumers so it's important for brands to make the online shopping process as easy and streamlined as possible. Multisearch makes it easier than ever to find exactly what you're looking for, augmented reality and live shopping gives you an idea of how an item will look in person, and social commerce makes it easy to shop entire looks, because that's ultimately what clothing brands are selling; a look. Brands and marketers can utilize this tech to create more comfortable, engaging experiences for consumers shopping online, thereby making it more likely for them to purchase from your brand.
Digitalization
Traceability and transparency
While Google Multisearch, augmented reality and social commerce have given marketers new ways to connect with consumers, it's important for brands and marketers to remain in touch with consumer values. Consumers want to buy from brands that understand them and reflect their values, and for many, transparency and sustainability is top of mind when shopping for new clothes.
Historically, the fashion industry has not been forthcoming when it comes to supply chain or business practices. This is becoming less acceptable to consumers and brands know it, and as such, they're making more efforts to be transparent with consumers and ensure their products are traceable through the supply chain. And while currently "about 15% of global fashion consumers are already highly concerned about sustainability and consistently make purchasing decisions to lower their impact. That percentage could increase to more than 50% in the coming years as more shoppers gravitate toward sustainable practices." Further, younger consumers are more interested in sustainability, with "73% of millennials willing to pay more for sustainable brands", and as they age and become the dominant shopping demographic, traceable and transparent business practices will become increasingly important, and for brands, be key to remaining top of mind.
Blockchain
Blockchain allows brands to certify and track a product's journey from pre-production all the way to the the store. According to IBM, "Blockchain is a shared, immutable ledger that facilitates the process of recording transactions and tracking assets in a business network." This kind of tech can address concerns that consumers have had about the fashion industry for years, which is that it isn't transparent enough. It can also be useful for the luxury goods industry and help verify authenticity and reassure consumers that the $3000 bag they are buying is the real deal. Brands that are able to use blockchain effectively can meet consumer demands for transparency and position themselves as being more trustworthy and understanding in the eyes of their audience.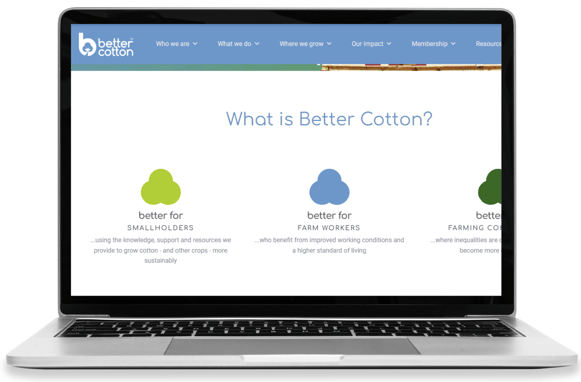 Third Party Certifications
To meet consumer demands for sustainability, there are many different certifications clothing retailers can choose to apply for and incorporate into their marketing and promotional efforts. Popular ones include the Responsible Wool Standard, Good Cashmere Standard, and Better Cotton Initiative. These certifications all work similarly and reassure consumers that the product they are purchasing meets the strict sustainability guidelines set out by the issuing organization. Each of these certifications rely on digital technology, not unlike blockchain to track and assess each stage of the manufacturing process. For the sustainability minded consumers, which is an ever-growing segment with "85 percent of people indicate[ing] that they have shifted their purchase behavior towards being more sustainable in the past five years", the presence or absence of these certifications can determine whether they purchase, and fashion brands and marketers will want to brainstorm ways to incorporate sustainability standards into their marketing efforts.
The Importance of Understanding
The fashion industry is growing, with global revenue expected to reach 1.8 trillion US dollars in 2023. As such, there are many opportunities. Harnessing the innovative technology shaping the industry and determining the best way to put it to work for your brand will be imperative. But the industry is a crowded space and there are many brands vying for the attention of consumers. For brands to see success, they must respond quickly to an industry changing just as quickly.
Getting the marketing mix right, in conjunction with innovative technologies, is important to maximizing success and ROI. Because it's not as simple as optimizing for Google Multisearch or creating a social commerce section on Instagram or Pinterest. Brands need a well-developed understanding of their consumers to ensure their marketing efforts will reach and resonate properly.
With a recession looming, consumers are being cautious with their money, and subsequently, their clothing budget. Thus, a thorough understanding of your audience, their needs, their shopping habits, and what they value both personally and with regards to clothing specifically, is critical for catching and holding their attention, and subsequently, seeing a strong return on your marketing efforts.