It's that time of year again!
As we look ahead to 2018, we collectively take a moment to reflect on the past success or failures from 2017 and to think about what the future holds.
Within our talented team, we have a group of highly specialized individuals who have a close connection to the marketing ecosystem. We've gathered perspectives from our team to put together insights into what 2018 may hold for you. These predictions will help keep you in front of a few key market trends.
Embracing Change: Over the past year, the number of industries feeling the impact of disruption continued to grow. In 2018 it's clear that the disruption theme will continue as innovation and new ways of thinking push historical business models to be broken and re-built.
Brands will need to be more adaptive, nimble and responsive to changes happening in the marketplace which will influence organizational structure as resources are reallocated to support a new reality. Although for many this will be a painful and costly exercise, we believe that the agility that these changes will bring the businesses who welcome them will be a positive.
Ultimately, the winner will be the consumer as businesses shift to meet consumer expectations. But as this becomes the new norm, the expectations will continue to be pushed as new entrants find their niche in the market.
Personalization: Personalization is all about creating a one-to-one moment. Positioning brands in a timely, relevant manner in front of consumers who have a need for that brand is essentially what marketers have always been trying to do.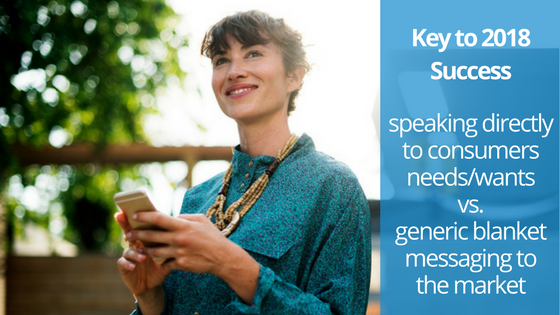 Brands who are personalizing messages to consumers are seeing accelerated performance as they are speaking directly to consumers needs/wants vs. generic blanket messaging to the market. Technology has responded from both an AdTech and MarTech perspective to help better support this marketplace change.
This is yet another cost to brands who take on this challenge, but one that is ripe with opportunity as consumers begin to expect personalization.
We anticipate a big year for personalization, as we expect that more and more brands will adopt a personalization strategy at scale across their marketing efforts. Everything from ad creative, to mediums utilized per user/user segment, to email and beyond.
Meaningful Data: There will be an increased focus on data utilization rather than collection of data.
Digital media provided a massive amount of data which made us data hungry, but data is meaningless without proper analysis and implementation. Two key ways we predict data will be applied is:

Data & Insights: Data analysis that drive business insights that center around commercial opportunity and

Data Agility: The ability to action the data in a realistic time frame.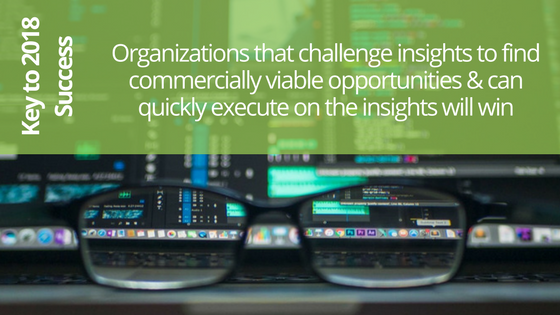 As data collection has matured, we anticipate that 2018 will welcome a period in which businesses will seek a new meaning for the data. A moment when an organization challenges the insights to find commercially viable opportunities within the data. But as is mentioned above, speed to market is key here.
Many businesses will be challenged to execute, but those who get it right will win in 2018.
Focus on the Long Game: We predict 2018 will see more brands understanding the value of adding long-term efforts to their marketing mix. Taking efforts to invest in developing long-term customer prospects vs. placing the majority (or entirety) of their focus on immediate customer prospects.
In practical terms, this equates to running short-term, acquisition campaigns along side of a long-term, brand building efforts.
This change will be a difficult one for many marketers as the immediacy of corporate KPIs will need to be managed delicately. Although taking this step now will provide value in two to three years for those who decide to make a strategic play for the future.
If you are interested in learning more about this approach, check out The Long and the Short of it.
Authenticity: Right now, consumers crave authenticity. Goodbye airbrush, hello live-video. Layering-down isn't a phase, it's a cultural identity and one that resonates particularity well with younger demographics.
Consumers will continue to reward brands that pull back the curtain and authentically share information about their vision, culture and products. This approach has worked extremely well over the past number of years as consumers not only invest in brands, but for some, connect personal identify with the brand.
Certain methods of communicating will play well; think influencer & video. But remember, authenticity is key here so knowing who you are and aspire to be is important as a brand so as to not negatively impact your loyal consumers.
AI & Segmentation:  Over the past number of years brands have developed and deployed rigid segmentation models to allow for a level of personalization to occur in their marketing. This has in fact been a positive; we are champions of this strategy. But a once stable part of a marketing plan will see some instability in 2018.
With the acceleration of AI in the AdTech/MarTech space, we will begin to see the basic DNA of these models be challenged. For many, the urge to resist this will be strong.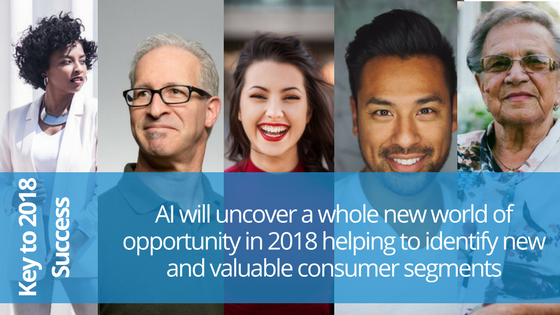 We anticipate that AI will uncover a whole new world of opportunity in 2018 as the deep levels of machine learning will allow AI to identify new segments (ones which we overlooked or simply didn't recognize in the past) and even help in identifying true segment value for some brands. To execute on this, some of the traditional boundaries created by a segmented approach will need to be removed to allow for new segments to be discovered.
This trend did start in 2017, although the process of adjusting and trusting AI has been slow, but as early adopters find success, more brands will realize the potential, give way to this technological progression and will endorse it.
Challenging your team to use AI to find new opportunity segments will be critical this year and we anticipate many brands will leverage AI to help re-define their approach to segmentation.
Overall, the theme for our 2018 marketing predictions is adaptability and thinking ahead. Disruption is happening. Technology is changing everything. Consumer expectations are evolving. The brands that will win in 2018 will face the facts, take a deep breath and roll up their sleeves.