Every year, the marketing and technology sectors keenly await Mary Meeker's Internet Trends Report. She has been touted as a first-rate trend spotter who can identify big picture trends before they come into focus. And she's back with another look at where we stand in technology, advertising, consumer behaviour, and society.
This year, Meeker's full report is a whopping 333 slides so we're sharing ten highlights that will help you stay on top of key shifts that allow you plan for the next major industry evolutions.
1. Internet usage:
More than half of the world's population is online (3.8B>50%). There has been 6% YOY growth but it's beginning to slow, highlighting the challenges (like infrastructure) now faced with getting the rest of the world online.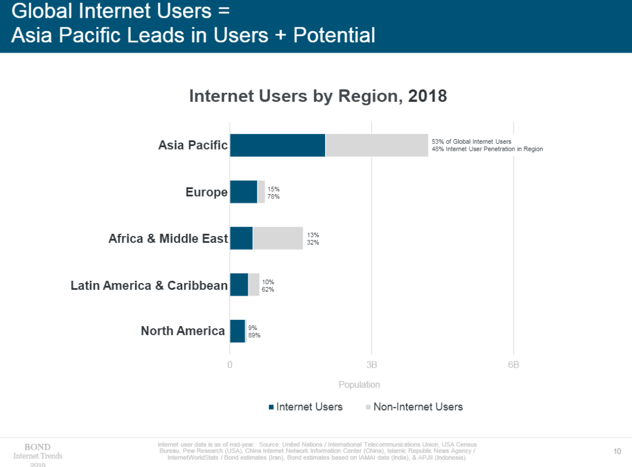 2. Mobile surpasses TV:
In 2019, the average daily time consumers spend on mobile surpassed TV (226 minutes for mobile versus 216 minutes for TV). Meeker also noted daily hours spent with digital media per adult user in the U.S. increased to more than six hours in 2018, from just under six hours in 2017. This is significant because for the first time, Americans are spending more time on their mobile devices than watching TV. Marketers should keep an eye trained on this trend as it's sure to continue and will, no doubt, impact strategy for marketing campaigns.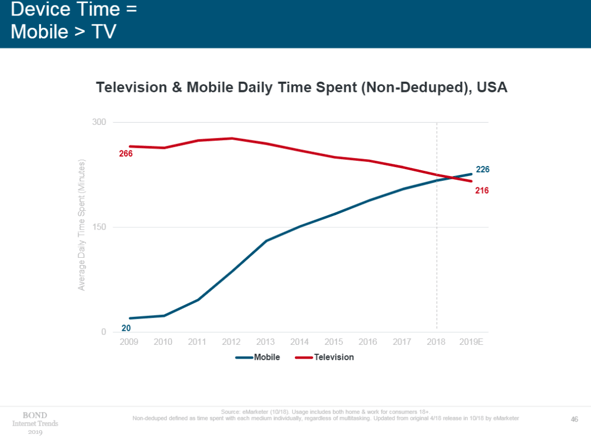 3. E-commerce: Meeker said in her report that e-commerce now accounts for 15% of all retail purchases. This growth is solid but slowing down, increasing around 12% per YOY while physical retail is growing at 2%.
The fact that consumers are spending more time than ever online combined with the growth of e-commerce means that marketers are targeting a ripe, captive audience.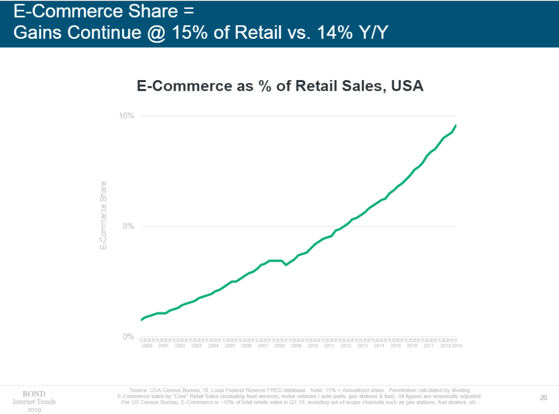 4. Internet advertising: Internet advertising is experiencing solid growth. Internet ad spend increased by 22% overall in the last year, versus 21% growth in 2017. Meeker said platforms that gain ad share are doing so with better targeting, new creative, commerce and high relevance. Internet advertising continues to be dominated by Google and Facebook, but Amazon, Twitter, Snap, and Pinterest continue to gain share. Meeker cautions that customer acquisition costs may be rising to "unsustainable levels", especially in highly competitive sectors. She also reports that gains made in programmatic display advertising versus direct buy continue to have a negative impact on pricing.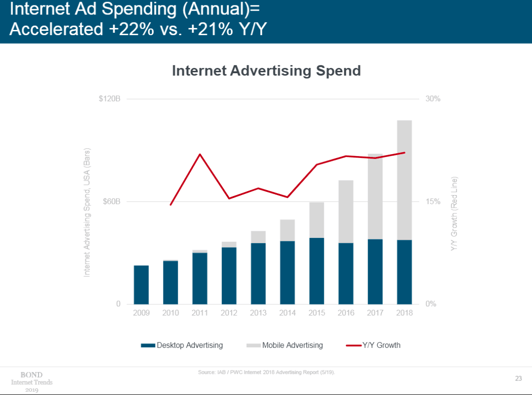 5. Most TV viewers are multi-tasking: Eighty-eight percent of TV viewers say they use a second digital device while watching TV and 71% say they look up content related to what they're watching mid-show.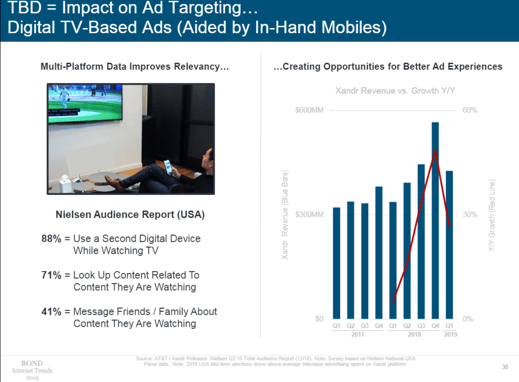 6. Images are everything: Looking to make an impact on social media? According to Meeker, it's all about the multimedia. She notes that more 50% of Twitter impressions are photo, video, or other type of content. She's seeing similar success of multimedia content elsewhere.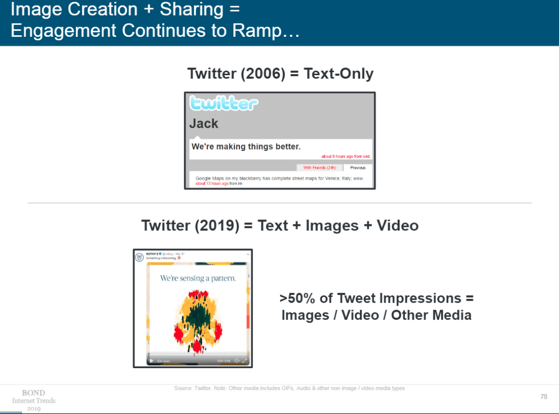 7. Freemium opportunity: Meeker says free trials provide growth opportunities, enabling more usage, engagement, and social sharing. The freemium model began with gaming, and the pure-play freemium businesses with more than 10 million paid subscribers as of March 2019 include Epic Games, Dropbox and Spotify (Spotify's freemium model accounts for 60% of its gross added premium subscribers). Marketers should note that free trials are the most effective marketing tool for online streaming services to attract new users.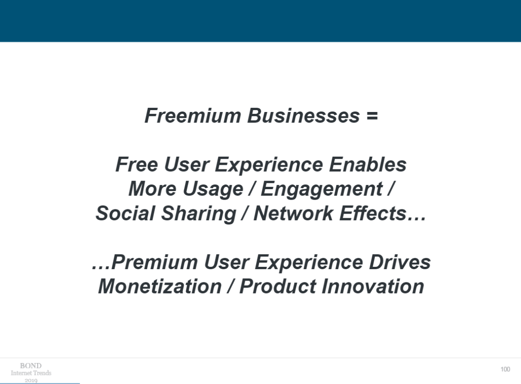 8. Privacy concerns: Privacy concerns are high but they're moderating because companies are offering more privacy-focused features. Meeker notes that In Q1 2019, 87% of global web traffic was encrypted, up from 53% three years ago.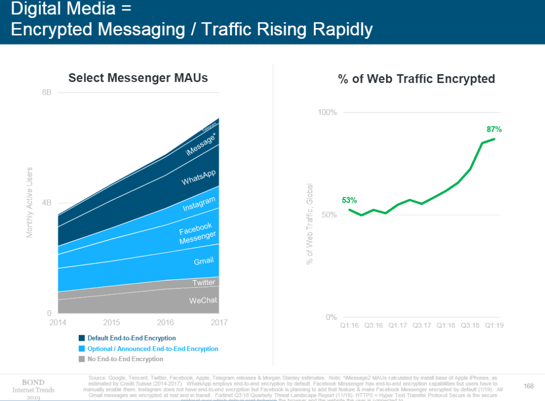 9. Data and personalization: Meeker said successful businesses will build and use data-plumbing tools to harness digital data and insights to improve user experience. Furthermore, when used properly, AI and data can improve customer satisfaction. In a survey of retail customers, 91% preferred brands that provided personalized offers and recommendations. 83% were willing to passively share data in exchange for personalized services and 74% were willing to actively share data in exchange for personalized experiences.


Data volume and utilization are also evolving rapidly. Enterprise surpassed consumer in 2018 and cloud is overtaking both. More data is now stored in the cloud than on private enterprise servers or consumer devices.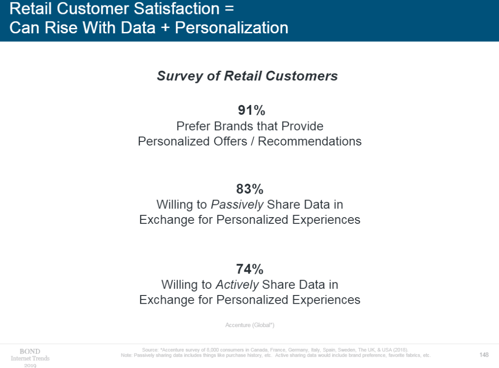 10. Gaming: Online gaming is booming. Interactive gaming is an increasingly relevant way to communicate, hitting 2.4 billion users, up 6 per cent year-on-year in 2018. According to Meeker, "Interactive gaming is shared environments with collective purpose and goals. Are these the new social and friend networks, recreating reality around play and problem solving?"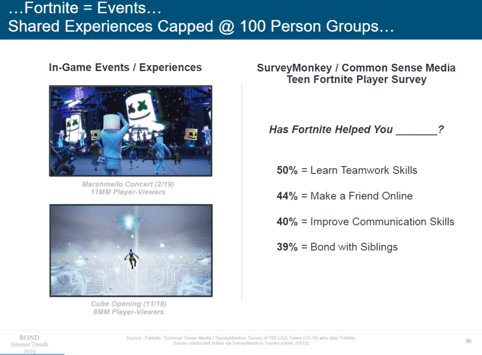 This report from the "Queen of the Internet" never fails to reveal interesting and insightful data on the evolving consumer landscape. This year's report is no different and will surely give marketers something to chew on as we strategize and plan for our next campaigns.