Apple's iOS 15 update launched last week on September 20th and continues to put marketers in a tricky spot. Where the last few updates leaned more toward putting privacy measures into the hands of users, iOS 15 jumps forward in placing restrictions on data tracking and measurement that will put a wrench in the attribution of advertising campaigns.
One of the biggest changes for iOS 15 is in email privacy. The update allows users the option to click "Hide my Email" which will scramble the destination on social media and ecommerce sites much like a VPN. This feature still allows individuals to receive the communications they have signed up for but will stop the user from receiving unwanted emails.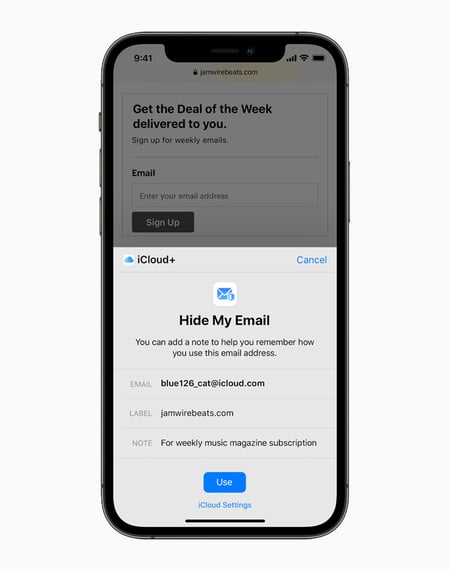 The update will also block the tracking pixels attached to email through "Mail Privacy Protection" so advertisers will no longer be able to see the customer journey. Whether or not the email was opened, how long the user read the email, and whether or not they continued looking for more information elsewhere after reading said email will all be hidden.
The update furthers the privacy measures already put in place on social media and Safari in their iOS 14 and 14.5 updates and further complicates communication for marketers.
So, what is the solution for marketers?
Of course, for those worried about their personal information, this is a win. However, for advertisers wishing to bring personalization to their audience, this is a huge hurdle. Marketers are still working on finding solutions and workarounds to get their products or services in front of the right people while maintaining the individuals right to digital privacy.
But even with the extension on the end of third-party cookies, advertisers need to be finding solutions now. Apple's updates are just some of the many procedures that will release in protecting the privacy of users.
There is no clear one solution but in order for marketers to remain effective and relevant we need to continue to collect and use 1st party data to reach our audience, to create intriguing content to capture attention, and to seek out great partnerships to help elevate our clients brands.
While we seek out new ways to use first party data and maintain the privacy of consumers, it is an important time for brands to rethink how we delight our changed audiences and create less transactional, more meaningful connections.