It's no secret that media and entertainment consumption has skyrocketed in the last year. People were home more, parents searched for ways to educate and keep their children busy, and everyone was looking for something to fill the time.
This was not only a win for those who produced media content, but advertisers and marketers were given more opportunities to get in front of their audiences through digital methods.
For the Consumer Packaged Goods (CPG) market, understanding the media habits of the Principal Grocery Shopper (PGS) will be extra important in the next year as habits continue to change. The pandemic introduced new opportunities and growth in the online grocery market, lending to the rise of the omnichannel shopper.

Media, like many industries, was affected greatly by the COVID-19 pandemic that emerged in early 2020. As the general public adjusted to changes, TV saw a huge drop in advertising as sports and social gatherings could not take place and companies attempted to secure their finances and switch their creatives to adjust. Because much of the world was operating through digital spaces instead of physical ones, media saw significant changes across the board. Some of these industries will continue to grow and affect online shoppers and in-store shoppers alike.
With media increased across the board and advertisers forced to switch their approach, understanding where the PGS was spending their time was more important than ever. McKinsey reported in October 2020, "TV viewing was initially up 10 to 20 percent, though it returned to pre-COVID-19 levels in May and is expected to decline by 11 percent for 2020 as a whole. Meanwhile, streaming doubled, video-game usage and downloads rose by 50 percent, and social media, video, and messaging apps have fueled a 20 percent increase in weekly time spent with mobiles." Seeing a clear shift toward digitally driven entertainment in parallel with the increasing number of omnichannel shoppers has shown a clear need for advertisers to move their ad dollars into these spaces. Those who were already in digital spaces or were able to adapt quickly are a step ahead in meeting consumers where they are now and will continue to be as these digital trends continue.
Our data for the most used media shows that COVID-19 caused traditional media that was trending up to fall back down, especially for the younger, more digital demographics. Radio continues to fall and may see a larger decline in the next few years in response to less commute time while magazines have increased slightly as the PGS has more leisure time. Overall Internet and TV usage has started to trend down and will continue to do so as attentions shift to new media and smart TV options.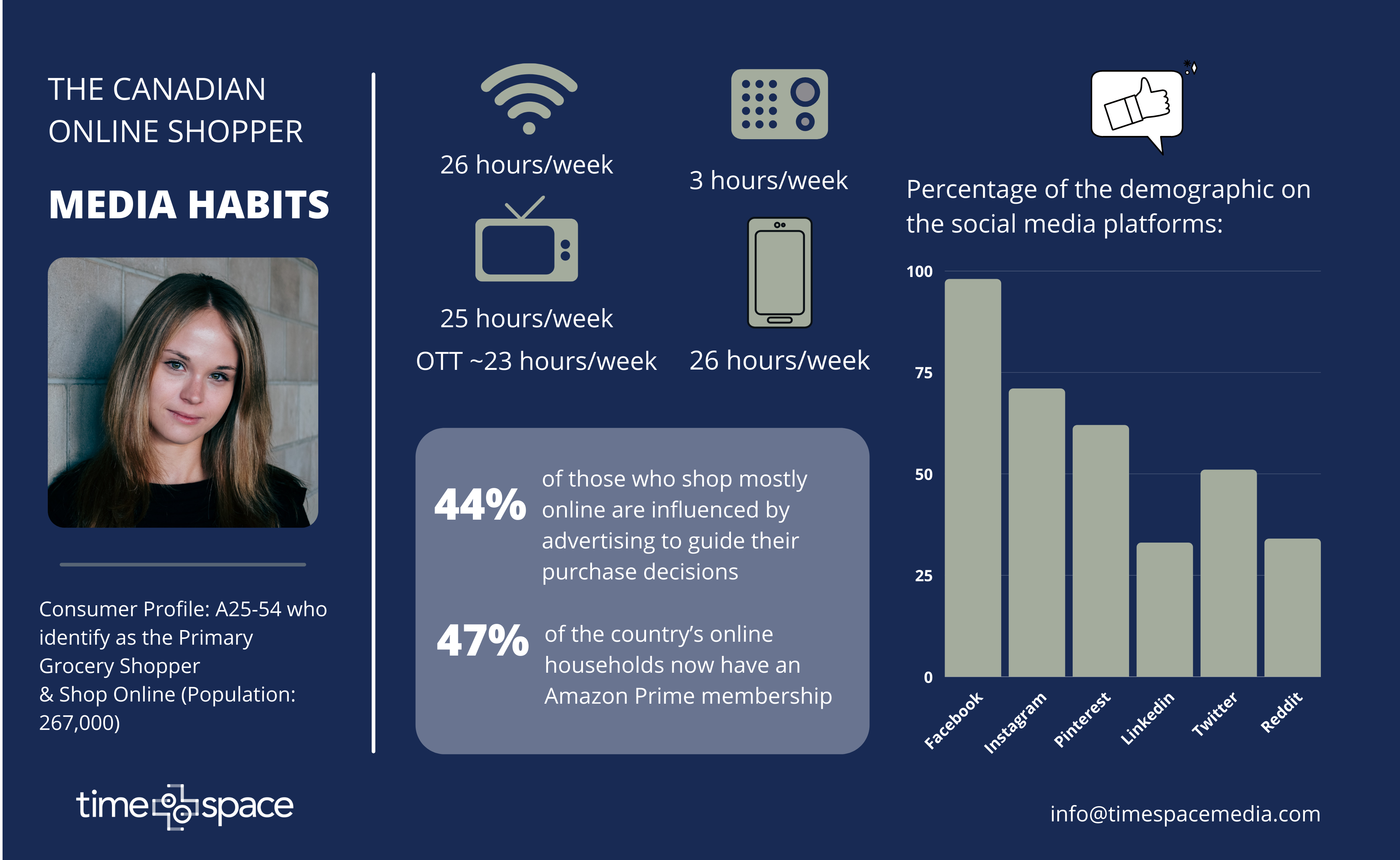 The Canadian online shopper is more likely to turn to digital spaces to seek information and offers. Because this is a comfortable space for online shoppers they have a more advanced understanding of new media and have tried more new media in the last year as a result. While the online shopper exists in many digital spaces, from online gaming to newspaper websites, there are certain forms of media that the pandemic has seen skyrocket for this grouping. When it comes to marketing to online shoppers, advertisers should be seeking methods that meet these digitally savvy individuals in spaces they are more focused and likely to be influenced by products, such as digital audio and when on branded apps.
The Opportunity in Digital Audio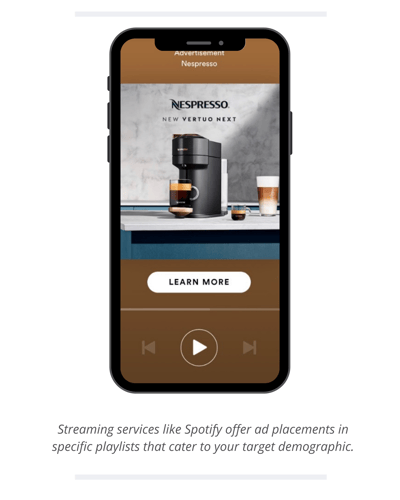 Though traditional methods of advertising such as radio and TV have decreased with the rise of digital promotion, there has been significant growth in online radio usage (Spotify, Apple Music etc.) with the surging popularity of podcasting and music subscriptions. All demographics of the PGS have seen growth in this category but those in the online-inclined category remain the most significant with 46% of Female PGS 25-39 reporting that they listen to podcasts daily or weekly and 78% reporting they have listened in the past month. Digital audio is a burgeoning opportunity for CPG advertisers to get in front of this demographic.
In Winter 2020, 33% of audio listeners aged 25-54 reported they listen to audio in a free digital format on streaming services. This format, much like some of the OTT services, allows listeners to stream for free (or at a reduced price) for listening to audio advertisements. 30% of listeners stated that they search the internet while listening to streaming radio, giving advertisers a clear avenue to reach their audience while they are in position to shop online. Not only this, but 22% said they had searched for a brand or product in the last month after listening to digital audio. This is an extremely penetrative format for advertisers when specifically targeting those who do their shopping online as they tend to already be in a position to search and purchase.
Advertising Through Branded Apps
Another way that CPG is specifically benefiting from digital is through the creation of branded apps to make the transfer from in-store to online a seamless one. Delivery services like Instacart and SPUD have existed for years but have only been viable for those willing to pay the steep fees associated. Large grocery chains like Loblaws, Sobeys, and Walmart have seen the largest increase in downloads in the last year as they offer a more accessible model to the general public. Walmart's grocery app surpassed Amazon in downloads for the Google Play store in April by 20%, showing the growing desire for a seamless online shopping experience and the willingness to use branded apps to make the transition easier. Loblaws has used the PC Express app with great success for groceries and is looking to expand its digital output through a new mobile health and wellness app, launching first in Atlantic Canada in October of 2020. This investment is an effort to funnel shoppers into digital applications that direct them to Loblaws for all their necessities, tying their PC Express grocery app to their PC Health app by the use of their PC Optimum card which loads offers for both. Loblaws saw an 160% growth in ecommerce sales in Q4 of 2020 YOY and plans to invest their growth back into those digital experiences for their online and increasing omnichannel shoppers. Using these spaces to advertise for certain brands will be key for this demographic. According to Google insights, 63% of smartphone users are more likely to purchase from companies whose mobile sites or apps offer them relevant recommendations on products they may be interested in. Advertisers have a great opportunity here to put themselves in front of their customers in a place they are already looking to make a purchase decision.
Reaching those who gravitate toward a digital platform means influencing them in those spaces they most often spend time. Apps offering promotions, social media directing information, and new media such as digital audio are all areas to be considered when gaining traction with the online-inclined demographic. We expect the investment to only increase in the next year with large retailers into apps and technologies that make the transition a smooth one for those who are looking to use digital with increased frequency.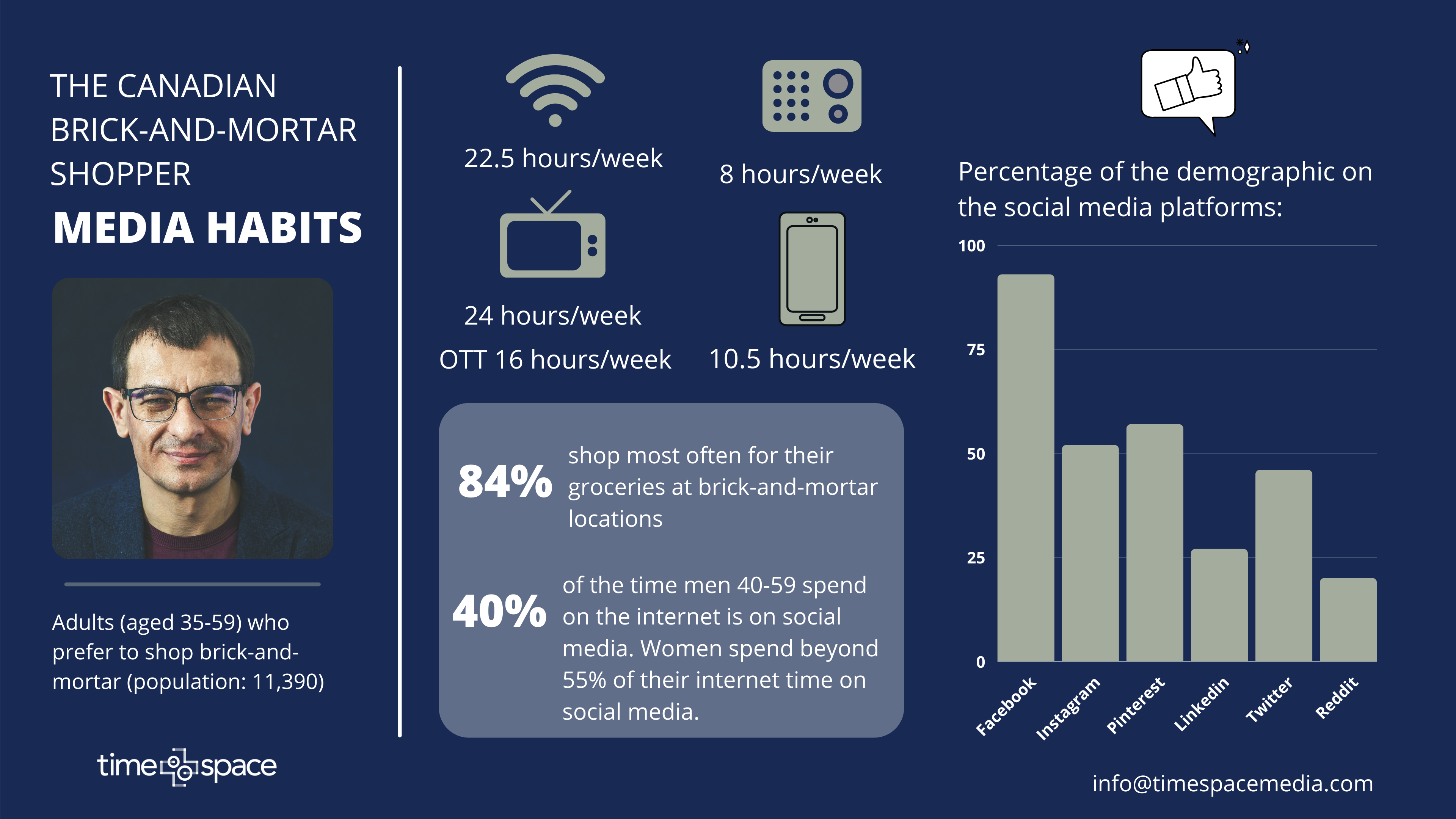 Brick-and-mortar shoppers are less comfortable in online digital spaces and tend to stick to the media they have always known. Traditionally forms of media like radio and newspapers are likely to reach this segment more than others but as more and more in-store shoppers test online methods of shopping, introducing them to new media through methods they are comfortable will be key. Creating experiences that blend familiarity with innovation will create more mature opportunities for advertisers to reach this consumer segment.
Connected TV
One of the big differences in the older generations of PGS is their usage of more traditional media. Particularly males aged 40-59 are more likely to stick with TV and traditional radio for consumption where females aged 40-59 are watching TV more than Millennials but have been quicker to switch to online through social media and online shopping than their male counterparts.
Connected TV (CTV), blending the internet with traditional TV, will be a great opportunity for advertisers to reach a demographic that is familiar with traditional media and has started dabbling in online offerings. With 64% of TV watchers having never had, or decided to get rid of cable, Connected TV gives advertisers the opportunity to reach the TV watching demographic as they continue to move toward more digitally incorporated media. McKinsey reports that during the height of the pandemic, "more than half of ad buyers were shifting their dollars from broadcast (53 percent) and cable TV (52 percent) to connected TV". With direct targeting and personalization, there is a great opportunity in Connected TV to serve advertisements that make sense to a diverse household.
Reaching those who typically shop in-store will be about focusing on experiences that are comfortable and familiar to them. Traditional forms of media like TV, radio, or magazines are more likely to reach the brick-and-mortar demographic, but ways that incorporate comfortable experiences with innovation like Connected TV or even digital audio will be more prominent in the coming years as more brick-and-mortar shoppers become omnichannel.


The increasing omnichannel shopper segment is due to the increased global penetration of digital in our everyday lives. Even as many remain brick-and-mortar shoppers some of the time, across all demographics, people are becoming more familiar with new media. Being able to stay on top of the media trends for segments across the board means reaching the omnichannel shopping group as they discover and become influenced by new forms of media.
Over the Top TV (OTT)
One of the media segments to make a significant jump for all cohorts of the PGS is Over the Top TV (OTT) which includes popular streaming services like: Netflix, Crave, Disney +, Amazon Prime Video, and Apple TV+. Our data from 2019 only captured Netflix and showed the PGS segments averaging 2.7 hours a week on OTT while the 2020 data captures many more of the popular services listed (due to the gained global presence) and averages close to 20 hours per week. The act of capturing more data on these streaming services shows the increase in attention placed on OTT as a viable option for entertainment.
Because OTT services are able to be viewed on multiple devices, two in five OTT subscribers share their accounts with other households, the number of individuals that have access and are watching through these services is greater than the number of total subscribers. Netflix is the service most often shared while Disney+ comes in second. Because of this, OTT services have profiles to create an algorithm tailored for each user. OTT is not only growing, it is skyrocketing, replacing the need for traditional TV for many households (especially those in younger demographics).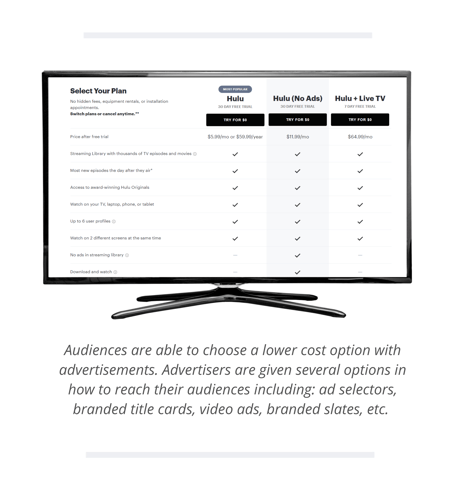 According the The Trade Desk, only 49% of TV watchers still subscribe to cable and of that number, a whopping 27% plan to cut the cord before the end of 2021. This will mean that 88% of TV watchers will be consuming content through other means than traditional TV and advertisers will need to find these demographics in other entertainment outlets. While some streaming services like Hulu and Sling TV in the US offer an option to users where they have access to all the shows but are shown advertisements at a lower subscription cost. This is a beneficial landscape to advertisers and the casual viewer as advertisers are able to target specific accounts with their ad that aligns with the viewers interests.
Social Media
Most segments of the PGS have Internet as their primary media source with the exception of Males 50-59 where TV is their primary source of media. All segments spend the majority of their Internet time on social media – between 55% up to 72%. This proves the advertising space on social media as a valuable asset in reaching all age groups of the PGS.
The State of Social Media in Canada in 2020 shows that social media is more popular with women than it is with men across all ages. As far as platforms, women have adopted Facebook, Instagram, Pinterest, Snapchat, and Tiktok more while men have adopted YouTube, Linkedin, Reddit, and Tumblr in higher proportions. This shows that women tend to gravitate toward social and messaging apps while men choose those more focused on watching, reading, and scrolling. We anticipate this will continue but the gap will grow thinner as younger generations have been adopting entertainment regardless of gender as seen in the expansion of online gaming, a traditionally male dominated form of new media. As of 2020, 46% of the online gaming market is now made up of women. As we have seen shifts in the PGS male/female divide growing thinner, this trend is expected to reach into the media consumed as well.

Out of Home (OOH)
An interesting development of the last year has been the online reactions to physical advertisements. We have seen Out of Home (OOH) ads go viral because of the creativity that physical spaces allow. This type of advertising is a true omnichannel blend, using physical advertising that is delightful to experience across digital spaces.
The Kit Kat ad that went viral was only a mock up of an OOH ad but became much beloved by the internet as it mixed the nostalgia of physical spaces that many missed so much with the digital world that people had come to know. Both online and OOH ads seek to grab attention in busy spaces and, if done correctly and authentically, can be an excellent way for the CPG market to speak to omnichannel shoppers.
As the CPG market continues to offer more seamless transitions to online, we predict there will continue to be growth in those that choose digital shopping a larger portion of the time. However, brick-and-mortar shopping will always remain a default, especially to those in an older generation who have less access to apps or online media. Knowing which form of media may influence your shopping segment the most will mean that you follow their interests and anticipate their needs as they continue to shift. As consumer behaviour continues to change with the rapidly evolving media landscape, advertisers should be embracing diversity in their advertising mediums and in their creatives. Ads aimed at brick-and-mortar shoppers and online shoppers will need to differ to gain their attention as their motivators for shopping differ. When creating and planning marketing strategies for the future advertisers will need to understand how their audience has changed, where they can be influenced across different mediums, and what their motivators are when making a purchase decision.