It's the most wonderful time of the year. International brands are building lovely, high production value, long form ads to entertain and entice - and we're gobbling them up.
This is the third consecutive year of this blog series – with the best of 2017 and 2018 still tugging at our heartstrings.
The one-upmanship has heightened the expectations of viewers, who clamour to watch new ads as they get launched into the market. Earned eyeballs abound for lengthy ads– flying in the face of the pervasive 6-second, unskippable, and forced call to action variety.
And, while Christmas campaigns can't do all the brand lifting on their own, these spots undeniably improved brand health. We're also learning more about how these Christmas ads can drive conversion. As Martin Delaney, Partner at Arrivals + Departures, pointed out last year, for example, Aldi's launch of their Kevin the Carrot ads in 2016 drove a 15% increase in seasonal sales and a million new customers.
This year, Martin has selected this lovely and real Spanish Lottery spot, showing a genuine relationship and how holiday magic can come in a simple gesture.
Tyson Hynes, Co-Founder and Creative Director at District Co, selected this year's eminently cool spot from Argos:
He says:
"I had the honour of hearing Richard Brim speak at Cannes this year – he's the guy behind 2018's Elton John spot for John Lewis – which pretty much set the bar for what a Christmas commercial should be.
That being said, my hands-down favourite for 2019 is as good or even better, if your musical tastes run to Simple Minds over Elton John. Shot for British catalogue retailer Argos and created by The&Partnership, the spot is devoted to the story of a dad's Christmas dream which gets taken to the next level when he shares it with his daughter, played by 9-year-old drumming prodigy Nandi Bushell. The spot is heartwarming, funny, engaging and just keeps getting more and more awesome as the story unfolds – and it all ties back to the idea that the Argos catalogue is the traditional start to the Christmas season in Britain. Cool fact: no CGI. Even cooler: "Don't You Forget About Me" still sounds amazing.
For a runner-up, I pick Ryan Reynold's Aviation Gin ad featuring the Peloton girl. Because Ryan Reynolds."
Tyson's in good company. AdWeek listed it as one of the best ads of the season.
It seems too easy, but this year, John Lewis and Waitrose stole the show for me, again. John Lewis more or less invented the genre and set the standard with classics and perennial favourites like Monty the Penguin (I'm not crying, you are), Buster the Boxer (dogs on trampolines for the win), and Moz the Monster (thinking of who actually wrapped that present makes me well up).
This year, again, they've made that connection between fantasy, children, familiar and gorgeous scoring, and storytelling– in this lovely departure from the present day with #ExcitableEdgar.
The 9 million (and counting) views are a testament to the occasion viewing we see with holiday ads. As the most liked comment on John Lewis' YouTube page states, the anticipation of an ad that reflects and drives our Christmas spirit every year is real.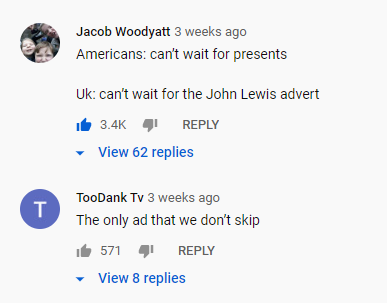 My runner up is from Swiss retailer, Migros. They have consistently delivered wonderful holiday spots. Having gone from stop animation bears last year (perhaps my all-time favourite Christmas spot), to "Fin" a wee animated character who powers the "beeps" in the checkout counter – they get me every. single. damn. time. This year, they went less saccharine and did a gentle spot about a little girl and an orphaned baby owl. I watch that and I know, in my heart of hearts, that Migros has all of my Swiss grocery needs because they understand me to my core.
We'd be remiss if we didn't provide a hearty shout out to friends at Accomplice Content Supply for this poignant piece of work they scripted, designed, and animated for the Shoebox Project. It's fantastic to have such incredible production value for a not-for-profit.
We'd like to thank all of the creative partners we work with year-round. It's a true pleasure to deal with such a talented roster and to watch you all continue to raise the standards of creativity. We consider ourselves lucky to be able to work with all of you.
Here's to more great work in 2020