No matter what industry you find yourself in, there is one commonality for us all: we all have a need to continue to evolve and learn. In 16/17, podcasts emerged as a phenomenal avenue to acquire thought provoking content.
If you haven't jumped aboard the podcast train, it's time to get onboard. If you have, and are looking for some new flavours of information, the following is a list of our favorite podcasts we have been listening to. These are sure to become your new go-to sources for information on-the-go!

10 minutes: that's all it takes to get a fresh perspective and actionable marketing advice daily. Neil Patel & Eric Siu host this series and are some serious heavyweights. Neil has co-founded the likes of Crazy Egg, KISSmetrics and Hello Bar, along with helping brands such as Amazon, GM and NBC. Eric isn't taking a backseat here, leveraging his experience as the CEO of Single Grain to share his perspective.
Tim became well known for The Four Hour Work Week, but Tim's podcast explores a variety of ideas including: mental performance, procrastination, how to say no and more. Overall, Tim Ferris has a unique talent for digging deep and his podcast provides tricks for getting more out of life.
Every two weeks, Pawel Grabowski interviews a wide variety of founders, executives and marketers on how to plan, launch and manage a content marketing strategy. These tips are on-point and will help you stay up-to-date.
You are unlikely to miss Gary Vaynerchuk; he's…well, everywhere. Amassing a huge following on social media for his blunt business advice, you'll either love him or hate him with no middle ground. What can't be debated it that his his passion is infectious, and his podcast serves up a daily dose of it.
Harvard Business Review has morphed in a way, transitioning much of the traditional content into a weekly podcast. The HBR IdeaCast pulls in leading thinkers from around the globe to discuss a wide variety of business, management and marketing topics.
The real-world case studies are A+ and worth checking out.
This podcast is produced by social media company, Buffer, and provides updates on all the social media trends. This is the perfect podcast for anyone who might feel left in the dust and have trouble keeping up with what is happening on-the-ground in the social realm. Each episode is about 15 minutes, so a quick and easy podcast for consumption.
The Entrepreneur's radio show about internet, social media, creativity, life, careers and everything in between. Emma Gannon's podcast is enlightening and upbeat and will resonate with anyone who is looking for authenticity.
A combination of "getting real" questions combined with real-life stories of failure, learning and success, this podcast is all about entrepreneurship. Any business pro who has been privy to ups and downs of business and dealt with the stress that comes with it will find a take-away in this podcast.
Former pro-athlete and world record holder in football, Lewis Howes shares inspirational storytelling from high-level business minds, world class athletes and celebrities. The goal of the podcast is to find out what makes people great. If you are motivated by others' success, this one's for you.
No fluff here, just real world, practical business lessons from the host, Omar Zenhom. You'll love the straight to the point, actionable lessons from real entrepreneurs. Averaging around 15 minutes in length, this show is very approachable and requires very little time commitment.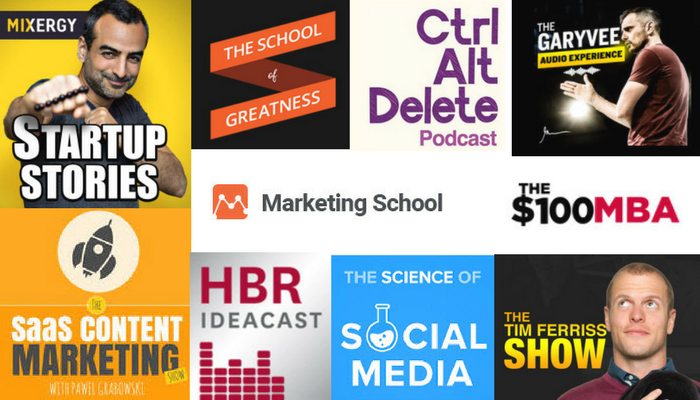 We want to hear from you. What podcasts can you simply not live without?
Tweet us and let us know your favorite podcast.