WHO WILL BE MARKETING'S MOST DISRUPTIVE NAMES IN 2018?
In marketing, there are those who adapt and those who force others to adapt.
This past year saw countless marketers being forced to play catch-up in an ever-evolving field where new strategies and technology reign supreme; everything from apps that create seamless customer experiences to brand building through social media influencers. These groundbreaking changes were born out of the minds and leadership of some of the most influential companies.
Who are the people leading these charges as we speak? Who are the individuals responsible for disrupting the marketplace and what do they have up their sleeves heading into 2018?
THE GAME CHANGERS
Amazon this, Google that. You've probably heard it a million times before. Amazon and Google are the pinnacle of innovation. Both have become so ingrained in our lives. Online search results have become synonymous with Google and seamless online shopping has become uniquely associated with Amazon.
They've disrupted just about every market you can think of, and their ability to shake up an entire industry is incomparable. For that reason, they're in a class all their own and we know they'll continue being major players going into 2018.
JEFF BEZOS: SIMPLY PUT, HE WANTS IT ALL
Amazon, which originally started out as a book-selling platform, is now on a mission to conquer every corner of the retail market (and potentially more) — and with CEO Jeff Bezos at the helm, there is seemingly no stopping its momentum.
Bezos has been shrewd in his tenure and now, as a result, Amazon is doing more than just selling. The Seattle-based company, originally founded 23 years ago, is constantly looking for innovative ways to improve customer experiences, from the new Amazon "Go" concept to futuristic drone-delivery service.
For Bezos, it's all about the challenge of retaining customers and there's no limit to his company's ingenuity. It has its own film and television studio, it's entered the AI stream with a personal-assistant platform named Alexa, and it in 2017, acquired Whole Foods in an attempt to enter the food industry.
True to form, Amazon has already changed the face of Whole Foods, cutting the upscale grocer's prices, offering Amazon products in-store, selling food online and awarding special discounts to Amazon Prime members. Heading into 2018, expect Bezos and co. to continue impacting the food industry — and, in turn, retail as a whole — on a level never seen before, as their way of resetting the bar for what a seamless customer experience should be.
Learnings from Amazon: Amazon isn't slowing down and won't be stopped any time soon, so the best way to address them is by embracing them. Define how your business can leverage the opportunity which Amazon may have created for you, or if your business is not directly impacted, simply reflect on the experience Amazon creates for customers and evaluate if there are any learnings to be applied.
SUNDAR PICHAI: SPEARHEADING GOOGLE'S BID FOR AI PROMINENCE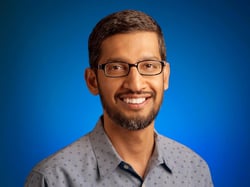 It was a transition year in 2017 for Google. The popular search engine announced it would be switching from mobile-first to AI-first, causing a stir in the technology market. However, Sundar Pichai, Google's CEO and the visionary behind Chrome and Android, has plans to take Google to new heights.
Google's presence is already widespread and now they're going to focus on machine learning, developing voice recognition and perfecting their visual-recognition software. This should be a warning shot to all in the AI industry because, as Google has proven before, when the company is focused on a task, it will more than likely be accomplished.
Learnings from Google: Google's unlimited resources afford them free reign to expand the AI market and there's an obvious lane for AI heading into 2018. It's disrupting the marketing industry at a fast pace and it will crush big data in the long run. The narrative, however, shouldn't be focused on AI's tour de force. Many companies are chock full of data and aren't using it effectively, but rather keeping it close to the chest and losing out on potential opportunities to expand their customer base. It's about how agile you are with your data: react quickly and you can disrupt the market in your own way.
THE DISRUPTORS
Not everyone can say they're on the same level as Amazon or Google, but there are a few that come extremely close. Walmart is one of those few who continue to change their image in hopes of becoming a major business influencer. As a retailer, Walmart is expanding the way they approach their customers by giving them the best customer service.
Meanwhile, there is a particularly major disruptor who has made significant waves over the last few years. In the move for better equality in the advertising workplace, The 3% Conference has made remarkable headway in changing the norms that have been established for years. CEO and Founder Kat Gordon created a superb initiative that has given minorities a louder voice within the industry.
DOUG McMILLON: KEEPING UP WITH TECHNOLOGY AND HOLDING ALL THE CARDS
Amazon has certainly made a push to become the most important retailer in the world, but there's one — rather large, some would say — franchise that has always cast a shadow across the entire retail landscape. Walmart has been going toe-to-toe with Amazon throughout all of 2017 and they're only looking to ramp up their productivity in 2018.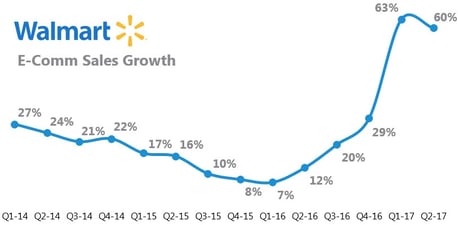 CEO Doug McMillon, who has been with Walmart for more than 20 years, has reinvented the stalwart superstore by infusing it with new technologies. They've improved their customer experience by analyzing their data and identifying that the quicker shoppers can exit their store, the happier they'll be.
Hence, the company created the Walmart "scan and go" app. With it, shoppers can scan an item, drop it in an online cart, pay online and leave the store. Ultimately, McMillon aims for a seamless transition for in-store customers, while employing a "pull model," to give customers more power.
Learnings from Walmart: The major issue right now is that customers feel forced to spend hours in a store, from browsing to waiting in line at check-out. Follow the Walmart model and identify the source of your customer pain point(s) and start investing in ways to satisfy your customers' needs.
KAT GORDON: DIVERSIFYING THE ADVERTISING INDUSTRY
It's no secret: diversity in the workplace is an issue. Several industries have been publicly highlighted over the past 12-18 months for the lack of diversity they exhibit. One which has somewhat flown under the radar is the advertising space.
A few years ago Kat Gordon decided it was time to disrupt that outdated model. At the time, she identified that only 3% of creative directors in the field were women. Her mission has been simple: create a more diversified workplace, while empowering women and people of colour through events, community building and mentorship programs.
Since The 3% Conference was founded, there has been an impressive improvement in the diversity within the creative director role. Through Gordon's movement, diversity in the creative director role has gone from 3% to 11%. Ultimately, her team vows to not stop until they reach the 50% mark.
Learnings from Kat Gordon: According to Gordon, the key to profitability starts with diversifying the workplace. This will give your business a fresh outlook and infuse new voices into your model, which will lead to more innovative creativity and understanding of your marketplace. Diversification can come in may forms, but it is well worth investing in.
THE NEWCOMERS
On the topic of VR, it is a major newcomer and does have the potential to change marketing. While it is difficult to envision a future with a marriage between VR and marketing, some have already begun trying to make it happen.
WP Narrative's Tricia Clarke-Stone has expanded the realm of content marketing by creating immersive VR stories. One of the more visible tools that has carved out a presence in marketing are influencers. Social media has a tremendous reach around the world and the stars who litter their space hold a lot of untapped potential.
TRICIA CLARKE-STONE: GIVING BRANDS A NEW VOICE
Marketers are constantly confronted by challenges, with customer engagement being one of the most prominent among them. Brimming with high-profile clients, WP Narrative and their leader, Tricia Clarke-Stone, are turning an intimidating new technology into an essential tool for marketers.
Video, audio, and text are all great mediums, but Clarke-Stone takes customer journeys a notch higher by immersing people in deep and compelling stories, which gives brands newer, more powerful voices. Their shoppable VR technology even allows shoppers to purchase items while submerged in a VR experience.
Learnings from WP Narrative:The future of VR might seem both scary and confusing, but it's only because that technology is still developing. This can't be stressed enough, though: while VR is tantalizing, it's still in its infancy. There's no real tangible commercial value there yet for marketers to leverage. It would be valuable to watch the market closely as it develops and capitalize once the trailblazers help develop some critical mass.
INFLUENCER MARKETING: COMPANIES FINALLY TAKE THE PLUNGE IN 2018
There's no denying the pull that social media continues to have. One thing that brands and marketers alike have dabbled with in 2017 are the profound effects that social media influencers can have on a campaign.
We have highlighted the origins of Influencer Marketing recently, if you missed it, check it out.

Popular figures like Instagram's Rachel Levin and Youtube's Ingrid Nilsen have thrown a wrench into the traditional marketing wheel. Both of these influencers combine for upwards of 20 million followers across all platforms, which is enough to show you what kind of reach they can provide for brands.
The power of social media hasn't been lost on brands or marketers, but the ability to leverage its users in this way is relatively new.
Social media has been particularly effective for smaller companies who would otherwise have had more difficulty pushing their brand into the public eye. With the help of social media and their influencers, brands have gained a fresh voice that has the potential instantly reach millions of people, and through influencers, reach an audience that comes pre-engaged.
Learnings from Levin & Nilsen: These marketing influencers can help guide your company to the promised land. If you're a brand just starting to get people to listen to your voice, influencers can be a great way to ease your product/service in front of potential consumers. You need to leverage every opportunity you can get and, heading into 2018, this might be one of the smartest investments you can make.