We've seen the viewership for vertical video skyrocket over the last few years with the rise of TikTok and the introduction of social platform elements like Instagram Reels and YouTube Shorts.
Vertical videos or photos are created and intended to be viewed in portrait mode, more tall than they are wide. In the case of many smartphones, this means a 16:9 aspect ratio.
Due to the desire for more of this content, Instagram is currently testing a vertical feed that will make vertical video the center of the platform. And while you will still be able to share photos on the platform – a gradient filling in the background much like what you would currently see on stories – the algorithm will favour short videos.
This is a huge move from Instagram as we know it, no longer favouring the square photos they've been known for since their launch in 2010.
Those who are in the current beta version already have opinions: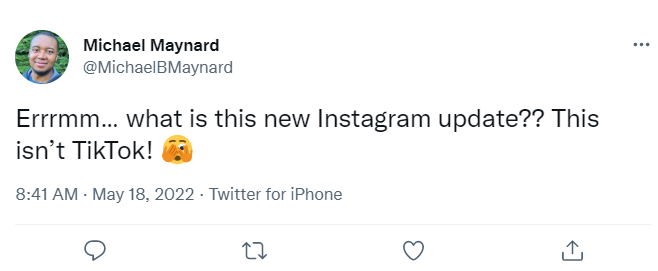 From what we've seen, the feedback from those currently beta testing isn't overwhelmingly positive.
But taking a step back from whether or not Instagram decides to make this a permanent update to the app, the decision to move in this direction is one we should unpack.
After all, why would Instagram test a vertical focus when the company is synonymous with square photography?
And while competition from TikTok is certainly a big part of this, it speaks louder to the movement of media to mobile formats.
A little history…
As more media moved online to desktops and eventually laptops in the late 90s and early 2000s, landscape photos and videos remained relatively unchanged in their format from an ad someone might run on a TV.
And as smartphones made it to the masses, the popular social apps and online destinations at the time – think Facebook and YouTube – were well established in horizontal formats that users adjusted their phones sideways to view without a second thought.
However, with the rise of Instagram and Snapchat, some of the first "mobile app-only" platforms, a desire for different formatting arose.
And while Instagram's test of a vertical video-forward feed may not be popular just yet, we do see a desire for more video, and specifically more vertical video, across most platforms.
So, what should advertisers do?
Before now, advertisers could simply choose to run one format of their ads across all platforms, especially if they hadn't yet entered TikTok, but this is changing.
The real shock of Instagram's current beta test is that those advertisers who aren't already creating vertical versions of their ads, or vertical specific ads, are going to be left behind as social platforms evolve.
This isn't to say it's a total vertical take-over, there will always be a place for landscape photos and videos. But, it's a wake-up call that if Instagram, practically synonymous with square formatting, sees the value in vertical, you should be aware of it as well.
And even though Instagram may stick with their current feed, as platforms favour more vertical video on their pages, consumers are going to be less inclined to turn their phone sideways or squint to watch a horizontal ad.
If you haven't already, it's time to consider how vertical formatting can fit into your campaigns from planning to creative to your consumers mobile device.