As we move toward the holiday season, at Time + Space Media we are thinking about how we can come together to make a difference in the lives of our fellow citizens. Each year, we support the mission of organizations that truly do great work in supporting our community. One of those important organizations is Feed Nova Scotia.
This year, the need for food bank donations is greater than ever before. The number of people accessing Feed Nova Scotia services is up 21%, and the number of applicants for its food hamper assistance program has increased significantly since last winter.
We believe that community is important to mobilizing and we want to do our part to ensure that no one goes hungry over the holidays. We are hosting our third annual Reach the Wreath campaign, in support of the great work being done by Feed Nova Scotia. In the lobby of our offices, we have hung a wreath quite high with the intention of collecting donations – both financial and food, to reach its height. We are collecting money and non-perishable food donations on behalf of Feed Nova Scotia until December 23rd.
Last year, we reached out to neighbours, friends, partners and colleagues to help us in our efforts and collectively, we raised over $700 and 266 pounds of non-perishable food items! This year, our goal is to raise $1,000 and 300-plus pounds of food for those in need.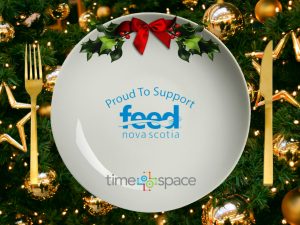 If you are interested in community building with us and want to participate, please contact us at info@timespacemedia.com to find out how you can donate, or click here to donate directly to Feed Nova Scotia online.
Every contribution makes a difference to families at this special time of the year. Thanks for your help in ensuring that as many people as possible have a Happy Holiday.