Big news in the world of social media! Instagram announced their latest feature: Stories. Instagram Stories allows users to share their experiences in real-time with a variety of quick editing options prior to publishing. Yes, you are correct, this is remarkably similar to Snapchat, one of the fastest growing social media channels right now.
Stories encourages the very large Instagram user base to share as much or as little as they want throughout the day. Users can bring their photos and videos to life instantly with text, emoticons and drawing options. As with Snapchat, the stories will disappear within 24 hours of posting.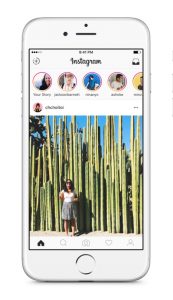 So, how does this work? Stories can be accessed on the top of users' feeds – when there's a new story, the profile photo will have a coloured ring around it, so you'll know there's new content to see. Stories is incredibly easy to use and intuitive to an Instagram user.
How does this impact Snapchat? Does this change anything? With millions of active users, Instagram is an established social media channel where people are currently spending time to browse their feeds. This is just simply an update to the network that is fun and exciting. Notably, the introduction of Stories allows businesses & users who have not yet jumped into Snapchat the ability to share live updates with their already existing followers.
How do we see this playing out? This is TBD; however, it's another step Instagram is taking to stay relevant to it's large user base. We are seeing many early adopters and feeds are currently blowing up with live stories. We'll be keeping an eye on this.
Interested in discussing your social media strategy? Drop us a line to start the conversation.