Instagram is growing like wildfire and you surely already know this.
With over 400 million users, Instagram is leveraging its mother network, Facebook to capitalize on reach and engagement with both millennials and adults, primarily on their mobile phones.

Millennials are all about connecting with brands in meaningful ways. They look to brands that give back, that "get them" as a consumer and those that are socially conscious. Instagram has given users an unique opportunity to connect with brands in visually-compelling ways, ways that tell a story. To continue to drive that connection and stay relevant with consumers, here's what we're predicting for Instagram for 2016.
Link-able Posts for Organic Content: More and more social channels are adding e-commerce enabled content and given the nature of the highly-engaged, millennial-focused user based, we anticipate that Instagram will soon be coming on board.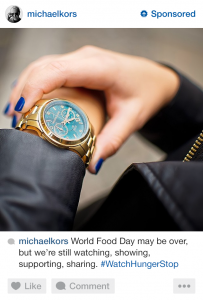 Facebook is all about the user experience and often makes changes to their Newsfeed algorithm to ensure that users continue to use the channel as their #1 social network. In an effort to keep users happy, we predict that Instagram will be adding link-able posts to their organic feed.
Currently, brands that want to drive users to their website will often place the link in their profile bio. This is a workaround; however, from a user experience perspective, this is not the best way to keep consumers engaged.
Linkable posts will keep users engaged in Instagram, keep brands happy and drive more business in this platform.
More Advertising Options: Currently, Instagram offers paid advertising on it's platform to brands. Advertising is fairly new in this channel and as more users continue to flock to this visually-appealing platform and as more advertisers are looking at ways to engage with their consumers, we predict they'll be offering more advertising options within their channel.
Instagram recently adding a new advertising option that leverages brand awareness and the connection individuals have with a brand. I see more of these types of ads surfacing in the platform in 2016.
As we wrap up a great year of social media changes in 2015, I am looking forward to all the changes in Instagram and other social networks in the coming year. What do you think will be new and exciting in social media in 2016? We would love to hear from you.