Over the past 2-3 years, the growth of Native Advertising has been interesting to watch. Some publishers have been very explicit in highlighting that the content is "sponsored" and others have tried to make it look more natural. Regardless of how native content is hitting the web, it's adding to the overall experience on the web and frankly if you are not testing this space, you could be missing a major opportunity.
If you are asking yourself, what the heck is Native Advertising? we have a quick overview below.
Native Advertising is both a digital and traditional advertising medium which appears as content, on 3rd party websites or publications. The content is generally developed by or for the advertiser with a specific goal in mind, which is delivered via the content to the consumer. There are various forms of Native Advertising, which vary greatly depending on the website or publication the advertisement is being delivered into.

Generally, the advertisement matches the form and function of the platform on which it appears. The concept of native advertising has taken various names over the years in and out of the digital space (Ex. Advertorial).
Why use native formats?
If executed upon properly, the native content will blend into the natural content and in many cases will not be identified as an ad by the reader. This has a positive impact for an advertiser as the awareness and trust for their brand can increase from this content. Here are a few other key take-away items to consider:
75% of marketers generated positive returns from content marketing. (AdAge) 74% of readers trust educational content from brands—as long as it doesn't push a sale. (Kentico) Kraft generates the equivalent of 1.1 billion ad impressions a year and a 4x ROI through content marketing than through targeted advertising. (AdAge)
Why are we predicting native growth?
Back in 2013 we posted a blog titled "Native Advertising in Full Swing", so why three years later are we predicting that 2016 will see real growth for native? The main reason, scale.
Native advertising has been held back by a lack scale and consistency across publishers. Most major publishers have adopted some form of native advertising, and there are many great examples of unique native advertising integrations across the web. The challenge here is that formatting is different, placement options vary and there is a lack of a true "middleware" to make what exists out there scalable.
2016 will see growth as we see that fragmentation decrease, and scale increase.
In late 2015, Programmatic exchanges such as Google AdX and MoPub have launched native solutions, native-centric exchanges platforms like TripleLift and StackAdapt are increasing their supply of native inventory, and various platforms are looking to incorporate the new protocol for native ad specifications (OpenRTB 2.3).
Below are some estimates on where the marketplace is going.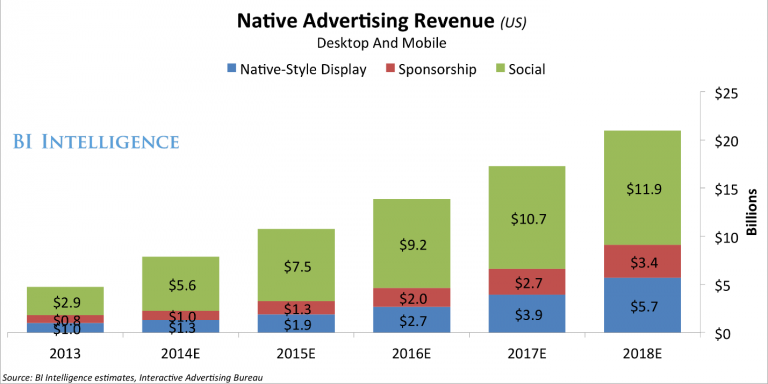 The real story here isn't that the spending is going to grow, it is that the ROI is officially present for this type of advertising. Without a positive return, we would not see a shift to this degree.