I'm going to take a wild guess you've used Siri, Alexa, Cortana, or Google Assistant in the last month or so. Am I right? Because digital and voice-based assistants, and voice search in particular, have become hugely popular over the past year, I'm guessing I am. The popularity of these devices boils down to a simple value prop: people can talk faster than they can type so once they start a voice conversation, why would they go back to typing? In fact, comScore predicts that 50% of all searches will be voice searches by 2020. What does this mean for your brand? And how does the introduction of voice search technology change the way you should advertise online?
What are consumers searching for?
Voice search isn't simply an alternative to searching through typing. It's an entity all its own and users don't typically search for the same things with voice as they do with text. Voice searches tend to be more local, customized searches. An example of a typical voice search would be, "Where is the nearest movie theatre?" or, "Where is the nearest coffee shop?" In fact, Internet Trends Report found that 22% of people use voice to search for finding local information like business hours, restaurants in the area, or even just "things to do near me."
Consumers are also searching for quick answers to simple questions. For example, let's say you want to cook fettuccine alfredo, but you've never prepared it before. You might search for, "How do I make fettuccine alfredo?" Questions for voice search are usually fact-based and don't necessarily warrant a deep dive or explanation to get an answer.
How to optimize for voice
Businesses need to respond to these emerging behaviours by changing the way they frame information. It's crucial that if you have a local business that relies on foot traffic, that you claim your Google My Business listing and ensure it's up to date. Take the time to fill out every single detail. Share your company's complete address, hours of operation, and the types of things you sell or a description of the services you provide. If someone is driving in their car and uses their phone to search for services you provide, then there's a good chance your business will pop up in the results.
Since digital assistants only tend to relay a single answer to voice requests, the business that fulfills the coveted top answer could feasibly multiply the number of consumers shopping in its stores. Here are four tactics we recommend implementing to take full advantage of the growing voice search market:
Optimize your website's keywords for voice search: Voice assistants are designed to be spoken to like a friend or another person in the room so conversations or questions to them are more natural, specific, and more focused around long-tail phrases. Instead of typing "pizza restaurants", a user is more likely to ask a voice assistant to, "Find a pizza restaurant near me that serves slices." When speaking to voice assistants, we tend to revert to our natural language behaviours by speaking in sentences. This means that optimizing for voice search means including a greater number of long-tail keywords and phrases in your website's copy.
Need a little help finding natural-sounding long-tail keywords? Answer the Public is a great solution, and it's free to use. Type in terms relevant to your business and get back results on how users are turning those terms into questions when searching.
Answer your customers' most frequently asked questions in a FAQ or blog post: Compile a list of questions your customers ask about you the most and create a FAQ. Better yet, turn the answers to those questions into blog posts that you host on your website. By embedding several long-tail keywords throughout your blog posts, you'll be more likely to be featured when someone asks a question relevant to your business. This means not shying away from longer articles. The more content you provide, the more keywords you can embed, and the greater your chances of appearing in voice searches increase.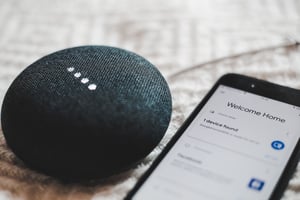 Optimize your content for featured snippets: Featured snippets appear at the top of a Google search results page and include a summary of the answer extracted from a webpage, plus a link to the page, the page title, and URL. Featured snippets always appear before traditional organic results. When a question is asked via voice search, Google will likely pull the featured snippet and read it aloud to the user then cite the source of the information. Optimizing to appear here is a great way to help your content get found when someone asks a question vocally. It's hardly surprising that Google Home is an extension of Google's search ecosystem, and there's an increasingly clear connection between Featured Snippets in search and voice answers. If Google can't find a featured snippet or the only snippets available are considered bad, Google will not provide any answers. What featured snippets should you aim for? Again, consider the questions someone in your audience may be asking on the go and make sure you have crawlable pages that answer those.
Learn more about how to optimize your content for featured snippets here.
Be mobile-friendly: Many voice searches happen on mobile devices, so you want to ensure your content is mobile-friendly. This means having a quick, responsive website that's easily digestible on every device and browser. Page load speed plays a huge role in voice search SEO. Backlinko found that the page-load time for a voice result was almost 2X faster than traditional webpages. Having a website that loads quickly will give you an edge in Google voice search results as customers are eager to get the answers to their queries quickly.
Building a strong online presence that's optimized for voice search can be a great opportunity for your business. The platform has only been gaining popularity, many of your customers are already using voice search. It's up to you and your business to meet them there.