Social media continues to accelerate and innovate as competition spikes and user interests change. The last year has moved people more into digital spaces than ever before and social media platforms are taking advantage of users' time spent online. Statistics show that there are 3.78 billion social media users in 2021, a 5% increase in the last year and a stunning 32.2% increase from just five years ago.
As demand for social media increases, the platforms continue to shift their algorithms and offerings to meet consumer interest. And as the platforms change, it is important that brands not only change, but innovate with them as well. Just like all traditional marketing, what worked pre-pandemic for a brand is not likely to delight consumers and work for a brand now. And with the fast-moving nature of social media, that time span is even shorter: what worked for your brand last month may need to be adjusted as the platforms themselves continue to shift.
Twitter and Snapchat both reported strong revenue gains for Q2 after adding new feature to their platforms to fit with consumers tastes. Snapchat added a short video platform called Spotlight last Fall and spent the last few months heavily promoting it while partnering with creators to help reach their target audience. They have also spent a significant amount of time and money investing in augmented reality (AR) that will continue to develop over the next year or so. Twitter has also started testing new innovation on their platform, trying to keep up with the demand for a better online experience.
YouTube and Spotify have made significant changes to their subscriber offerings, creating mid-tier options that benefit both users and advertisers. They both seek to create experiences where advertisers can reach their audience while subscribers are not bombarded with ads but have options in the amount they pay, the amount of ads they listen to, and what those ads are. These trials that YouTube and Spotify are doing will be important for advertisers to keep an eye on as subscription services for social media and other new media continue to gain popularity.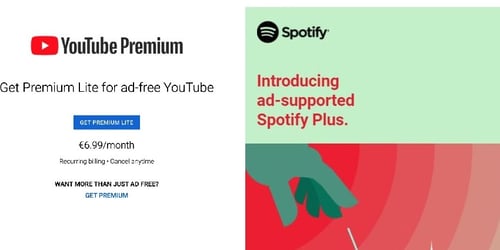 TikTok continues to ride on their success of the past year and seeks to innovate into the ecommerce space. They previously partnered with Shopify to test the US and UK markets and are now expanding into the Canadian market.
These are just a few of the changes that social platforms have announced in the last couple of weeks. This shows that the innovation that social media continues to show is not slowing but accelerating to grab the attention of users and advertisers.
So, with the fast moving nature of social media, why even bother? Because the move to digital is not only happening, it HAS happened. If you look at Instagram, more than 80% of users follow a business account and regularly view their content and with Facebook, two-thirds of users look at a local business page weekly.
While social media may have historically looked like an extra piece of your marketing strategy, it is useful and necessary and a lot more important than it was in the past. For many, being online means being on social media and as most companies have seen dramatic shifts for their demographic to digital, creating a social strategy that focuses on agility and consumer interest will be an imperative piece of your marketing strategy moving forward.