Chances are you're already a member of numerous loyalty programs. In fact, "Canadians are among the most active loyalty program users in the world, with 56% making purchases that earn rewards or benefits several times a week". Starbucks Rewards, PC Optimum, and Sephora Beauty Insider are all loyalty programs, as is Amazon Prime. Loyalty programs are designed to inspire customer loyalty through rewards or perks of some sort. The Sephora Beauty Insider program is a tiered loyalty program that rewards customers with different status levels depending on how much money they spend. Starbucks Rewards is a more traditional points-based program as is the Triangle Reward Program by Canadian Tire, where customers are given brand-issued money that can be used towards future purchases. Amazon's Prime and Costco's membership program are both popular examples of paid programs, where customers must pay to access the program perks.
It Takes all Kinds (of programs)
Points based
A points-based system is the most common of the loyalty programs. This type of program is straightforward and rewards customers with points based on how much money they spend. Customers can redeem points once they accumulate a certain amount. Depending on the program, points can be redeemed for money off, like with the PC Optimum program, or free items like with Starbucks rewards.
Tiered
Tiered loyalty programs group customer into tiers based on how much money they spend at a store or on their brand. The higher the tier, the better the perks, encouraging customers to spend more money in order to reach a certain level. The Sephora Beauty Insider program is one example of tiered loyalty program where there are three tiers and all customers start off at the base tier. Customers who spend a certain amount of money annually will be promoted to the higher tiers, depending on how much they spend.
Paid
Paid loyalty programs require customers to pay in order to access the perks of the program. Amazon Prime is a good example as customers who opt to pay for Amazon Prime receive free expediated shipping on eligible items, as well as access to Prime Video, an on-demand streaming service. Customers can use Amazon without paying for Prime but they won't have access to any of the aforementioned perks. Costco differs slightly from other paid loyalty programs because customers need membership to shop, there is no free option like with Prime. Brands that opt to implement paid loyalty programs need to ensure they are providing demonstrable value to prospective customers, otherwise it is a hard sell.
Value
With a value-based loyalty program, customers don't receive perks themselves. Instead, the company pledges to make a charitable donation of some sort in response to a consumer making a purchase. Toms is a good example of this type of program. For every pair of shoes purchased from Toms, the company will donate a pair of shoes to someone in need. This type of program allows customers to feel like they are making a positive difference through the actions of the company, and that feeling, is the reward component of the program.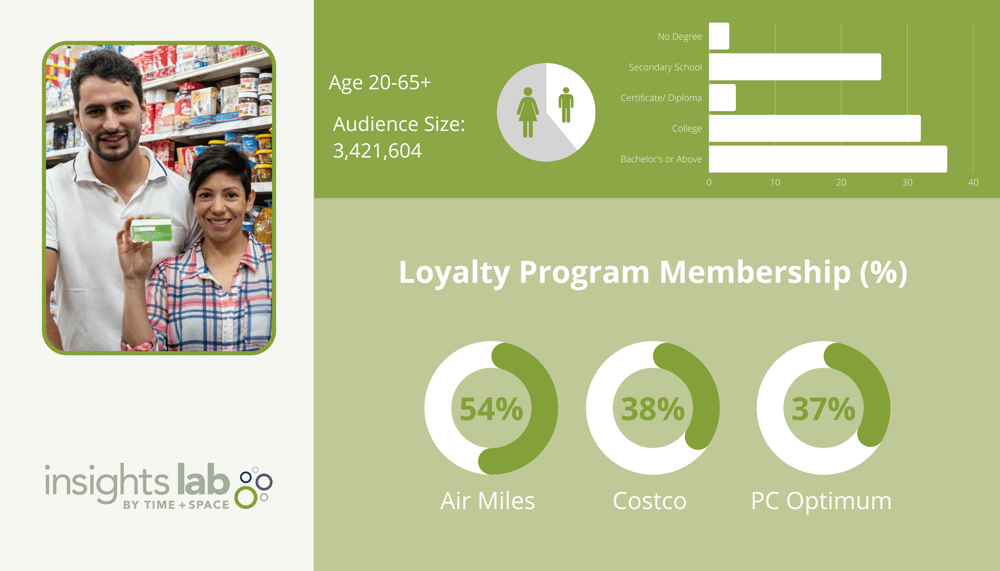 What are the Benefits of Loyalty Programs for Brands?
Customer Retention & Acquisition
The main benefit to loyalty programs is right in the name, loyalty. Brands are rarely ever the only choice consumers have in the marketplace and "research shows that it costs between 6 to 7 times more to get a new customer vs. keeping the customers you already have" according to American Express. Though this figure might vary depending on the industry, brand and product, it's a good benchmark figure for organizations to keep in mind. As such, it's imperative for brands to retain the customers they have and one way to do that is through the implementation of a loyalty program.
However, although loyalty programs are effective at retaining customers, they also play an important role in attracting new customers for largely the same reason; they incentivize customers and help differentiate brands operating in crowded markets. If two brands are selling very similar products for a similar price, an enticing loyalty program can end up being the reason a customer chooses one brand over the other.
Retaining customers has become increasingly important since the start of the pandemic. Mckinsey reported that "more than 75 per cent of consumers have changed their buying habits" and that "39 per cent have either changed brands or retailers, and 79 per cent of those intend to continue exploring their options".
Brands have taken note and unsurprisingly, loyalty programs are on the rise with 90% of companies having some sort of loyalty program. As reported by Insights Lab, one of the most popular types of loyalty programs in Canada is the Air Miles program with over 50% of Canadians reporting a membership. Part of the consumer appeal of Air Miles is that it's not a store specific program but rather a third-party program that retailers can choose to take part in. However, the downside of this type of program is that because it is not brand specific, there is less incentive for a consumer to shop at a particular brand.
Creating the ideal loyalty program is not an easy feat, and since so many brands offer one, you need to ensure yours is enticing and valuable enough in the eyes of consumers to stand out and encourage consumers to engage in repeat business.
Further, it is important to note that even with an enticing loyalty program, there are other motivators that influence consumers. In our previous research, we have found between 40-47% of consumers will choose a product on sale over their preferred brand, especially among cost-conscious consumers.
Data & Consumer Insights
One of the less obvious benefits of loyalty programs is the data and consumer insights many programs make available for their corporate partners. Loyalty programs benefit organizations through their effect on customer retention and acquisition, but they also provide valuable info on consumer shopping habits. This info can be used by organizations to target particular consumers with offers that reflect their values and spending habits, further influencing retention. Air Miles Corporate has a Collector Intelligence unit which involves two AI programs dedicated to collecting information on consumer shopping habits of card holders. This insight is used to determine which consumers will respond well to certain offers and rewards.
Mastercard is another organization offering powerful consumer data and insights to partner organizations. Although, Mastercard itself is not a loyalty program, as one of the most popular credit card companies in the world, it has access to a vast amount of consumer data making it an attractive company for organizations to partner with for their loyalty programs. The Triangle Rewards program operated by Canadian Tire, has a partnership with Mastercard. In total, Mastercard has over 2200 partners worldwide in over 120 countries. Not only does Mastercard offer robust data tracking and analytics tools, they offer consulting and campaign measurement and management to help ensure their partners see success with their loyalty programs.
To charge or not to charge?
To Charge
The best type of loyalty program for your brand will depend on several factors. As you begin to address these factors, you must consider your brand goals, your products or service and your customer base. For one consideration, research by McKinsey has shown that paid loyalty programs are more effective at driving repeat purchasing than free programs. Specifically, members of paid loyalty programs are 60 percent more likely to spend more on the brand after subscribing, while free loyalty programs only increase that likelihood by 30 percent".
Not only do paid loyalty programs make it more likely for consumers to purchase from a brand after subscribing, but they also increase purchasing frequency and overall spending. Research from Mckinsey indicates that "43% of members are more likely to buy weekly" after they join and are 62% more likely to spend more money with the brand than non-paying members.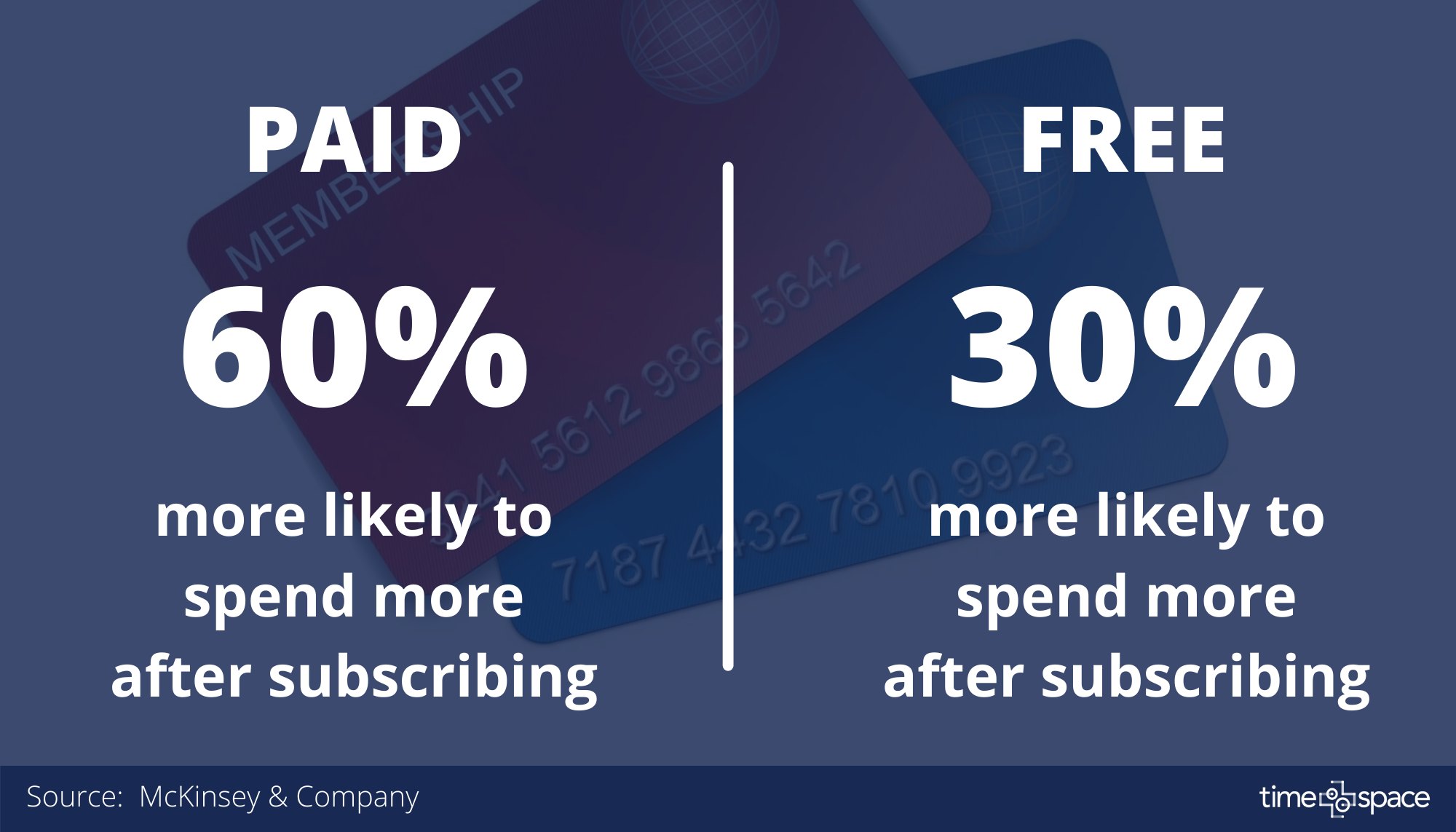 Asking consumers to pay to access a loyalty program might seem like a hard sell but almost two thirds of consumers are already members of a paid loyalty program. As mentioned earlier, Amazon Prime an Costco are both examples of this type of program and you likely know at least one person, if not several, with one of these memberships.
It's not surprising that consumers who are paying members of a loyalty program are more likely to spend more and with increased frequently with a brand as they have already decided the brand provides a valuable service or product worth the price of the membership. That's the biggest obstacle when it comes to implementing a successful paid loyalty program; proving to the consumer that you're worth it and that what they get out of your brand's loyalty program justifies the cost.
Not to Charge
Although paid loyalty programs have proven beneficial, they aren't necessarily ideal for every brand. Brands in crowded markets or selling everyday products like groceries, toiletries, or gas might not benefit from a paid program. Paid loyalty programs require a brand to be selling something niche or offering a service or product that is superior or different enough from competitors to justify the membership cost, which is typically not the case for grocery retailers or drug stores.
When implementing a free, points-based loyalty program, brands still need to ensure they are putting in the effort to make the program appealing to consumers and justify the membership. "According to the latest insights from the Data & Marketing Association (DMA), a third of customers (34%), especially millennials and younger consumers, demand more bespoke and alternative benefits for their loyalty instead of points." So, although there is no cost to consumers with a free points-based system, customers are not interested in loyalty programs that have no clear benefit to them or ones that have rewards that feel out of reach.
Enhancing the appeal of a points-based system can involve adding tiers or levels, like Marriott has done with their Bonvoy program, which consists of six loyalty levels aptly named member, silver, gold, platinum, titanium and ambassador. Tiers give customers something to aspire to within the program, thereby promoting increased spending to reach the next level. Further, with tiers, customers don't feel like they are starting from zero after cashing in their points. Lastly, they can make customers feel valued, especially as they move up the rewards ladder. This is important considering "the top 10% of your customers are spending three times as much as your typical customer, while the top 1% is spending as much as five times more."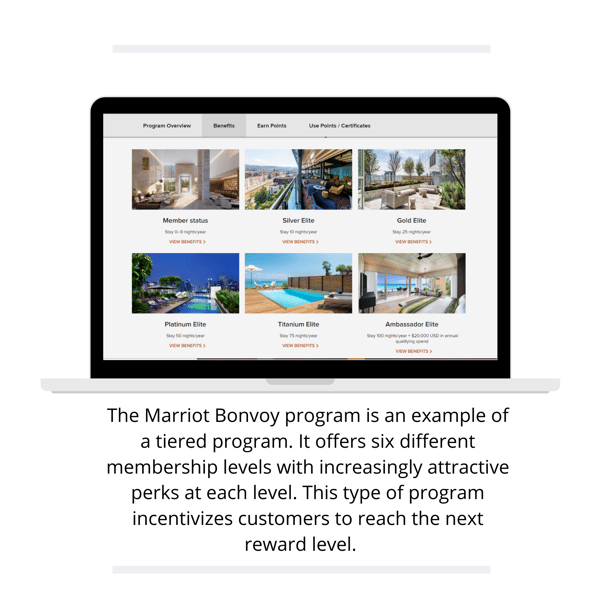 Another way to increase loyalty program enrollment is to consider giving your customers the option to transform their rewards or points into a charitable donation. On its own, this would be a value-based program but if you aren't looking to make that your entire program, it is a great way to augment an existing loyalty program. They can also be used on a short-term basis. For example, Royale introduced an initiative in Fall 2020 as a follow up to their Home for Every Pet campaign where customers who spent $20 on Royale products received a $5 coupon and the company donated $5 to pet shelters across Canada. This example isn't a loyalty program in the traditional sense but coupons themselves act as a temporary loyalty card, influencing customers to purchase again with the brand and the donation Royale makes incorporates the giving back component.
Adding this type of reward allows customers to feel like they are making a positive difference without having to reach into their own pocket. It also means your brand benefits from positive public relations, and the charity benefits from monetary support and awareness. Everybody wins.
Are Loyalty Programs for You?
Choosing to implement a loyalty program requires brands to know their customers and what their customers value. You also must consider your product or service, your organizational objectives, and your competitors. Loyalty programs need to supply value to the customer and that will generally require brands spending money to fund the rewards, at least initially until the program starts generating increased business, so ensure you have a realistic budget set. Further, businesses operating in a crowded marketplace will have added pressure to ensure they develop an engaging loyalty program to set themselves apart from their numerous competitors. A well-executed loyalty program with a solid product or service will help ensure your customers keep you as their number one choice.
Partnering with organizations like Air Miles and Mastercard, allows brands access to valuable consumer data and insights. This information can help brands tailor their loyalty program rewards and offers to particular consumers based on their shopping habits, helping brands further enhance the appeal and effectiveness of their program.
Loyalty programs are about creating brand awareness and fostering consumer loyalty, both for current and new customers. If you have any questions about loyalty programs or are interested in increasing awareness around your brand, reach out to us, we'll be happy to help!